1
Almost done
Posted by
polyfrag
, 19 May 2013 · 177 views
I think it'll be done in about a week.
[ ] AI buying/selling of property
[ ] request to end war
[ ] confirmation to start war
[ ] AI starting/ending wars
[ ] AI building competitors in case of monopoly/high prices
[ ] AI adjusting prices to maximize profit
[X] population growth from consumer goods surplus
[?] resource stock change numbers in resource ticker
[X] graphs of stock changes in building view
[ ] checking for bankruptcy
[ ] checking for victory conditions
[X] military units moving to attack targets automatically
[ ] selection region around units
[ ] research tech tree
[ ] buying/selling tech
[ ] AI buying tech
[ ] adjusting truck transportation prices
[ ] checking if all workers dead
Here it shows how much money the labourer has, how much work he can do without rest, and his hunger level (the icon represents consumer goods). You need to know how much money the workers have to determine how much to pay them and what prices you can set on consumer goods and housing. If they can't pay for housing, they can't rest so they won't be able to work and will starve. They will die if they run out of food/consumer goods. If there's a surplus of consumer goods the worker will divide.
You can see how much fuel trucks have left:
Construction projects show how much more cement they need and how much more work needs to be done.
Trucks also show how much cargo they're carrying.
Looks crowded when sized to smartphone screen though: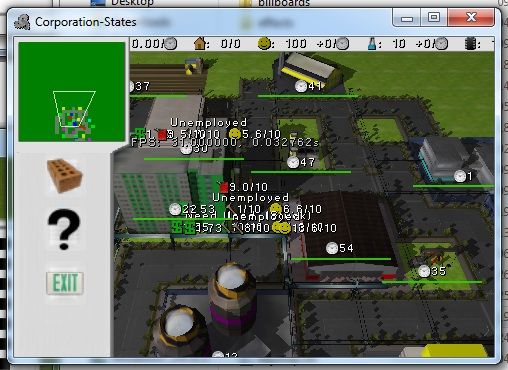 Resource cache graphs:
Balancing starting (global) resources:
So far the simulation runs good in the beginning, when everything is being constructed, and the quarry-cement plant processes are supplying cement to everything. The next main process is supplying the shopping complex so that it can provide consumer goods to "hungry" workers. The problem is that prices might be set too high, bankrupting or starving a certain part of the economy, requiring competitors. Under some price condition, the AI should construct competing businesses. If the cost of cement or other construction resource is too high though, the owning player will starve the rest of the economy.