1
7) Adding projectiles and inventory
Posted by
AFS
, 18 September 2013 · 407 views
Finally I finished with most of the stuff related to the map editor, and now I can worry about stuff related to the game itself.
About six weeks ago I implemented projectiles: characters can aim in 360 degrees and shoot them; they can either hit another character causing damage or hit the ground or walls, with the latter being a total pain in the ass to implement correctly but oh man, I would lie if I say that it wasn't satisfying when it finally worked.
To test the projectiles I created another character -a simple turret- and I made a little code for its "AI" (ha!).

The turret searches for you and shoots on sight. Nothing spectacular; I'm seriously wondering how I am going to create a competent AI; mad respect for any of you guys who create good AIs, because to me it seems to be the most challenging part of the whole thing.
So, back on topic, projectiles worked, the turret worked. "What now?" - "I don't now, I'm tired..."
I lost motivation after that, and stopped working for five or six weeks. Only three days ago I resumed work after some spark of inspiration, and I started and finished a very simple inventory system: each character has an inventory, which is just a vector of 25 items, and it's empty by default.
Of course, the player character also has an inventory, and to manage it I made a simple interface that appears after pressing Tab. With it you can see on screen all your 25 items, and can drop any item if you need extra space. It's pretty simple, so there is not much to say.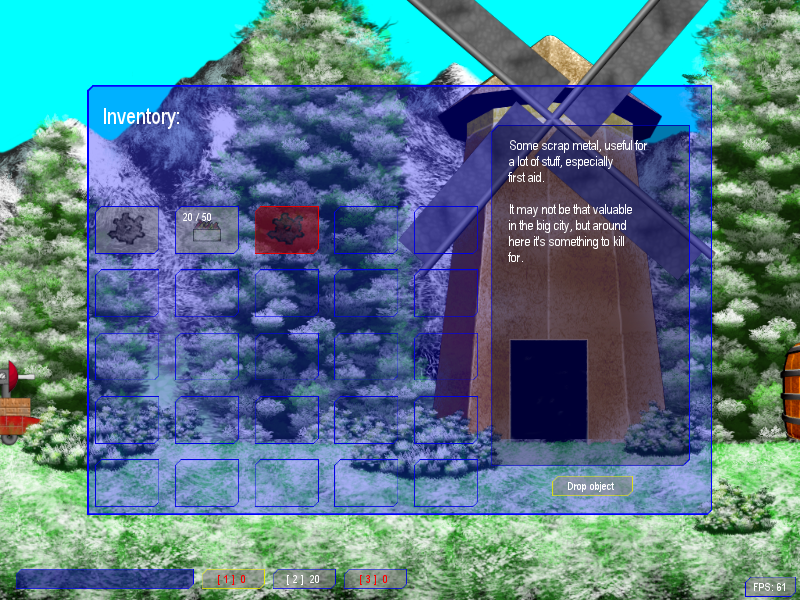 Here's a video of the Roy Bot "scrap hunting": it shows the inventory system plus some shooting
Cheers!