Hi all,
I've been diligently planning on making a simple video game. I have decided that i'm going to go with C# and use XNA. The problem is, I haven't the faintest clue of how i can get started. I've already begun coding but i've kind of hit a wall.
I've drawn up a simple diagram detailing the components i'll probably need to make. I don't know which order to make them in though! If anyone here has had experience building a game from scratch i'd love to hear their words of wisdom.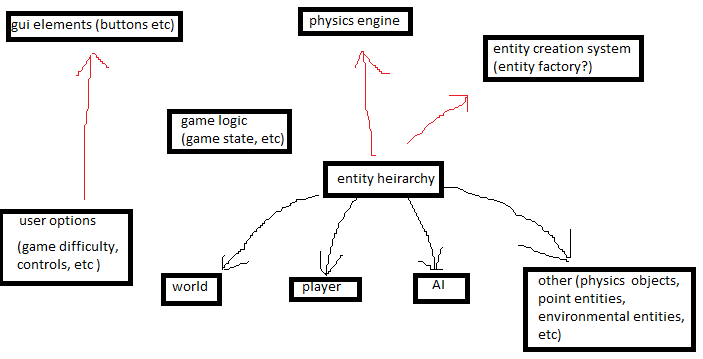 The red arrows mean that one thing probably depends on another being coded first.
I'm also keen on learning more about certain aspects of video games. I have heard a lot of talk about "entity factories" but i've never really understood what they are and why they are useful. How can i implement PhysX in my video game? Where can i learn about shaders and what exactly they do? If anyone could give me a push in the right direction i'd be very grateful. Feel free to ask me any questions if i left any information out.