Hello everybody!
I'm great fan of old adventures like Legend of Zelda or Secret of Mana and long time i dream to make game in this style. At first I have drawn a little mockup: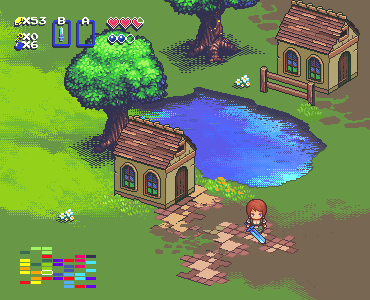 ..and than that has inspired me to make
a real game
!
At current stage I have made design-doc, one tileset + sprites for the first world and basic gameplay objects. Here is fragment of des-doc:
For map creation I use awesome tool - Tiled Map Creator. It very convenient.
So! I hope you like it (lol) :3 Demo version will be released early next month, i promise! =)
And here there are some videos from early-early game protorype:
...and some links:
Official devlog
TIG src devlog
ModDB page