Our team Crazy Donkey is excited to announce our first release called Robot Misfits, a puzzle platformer that involves switching between four robots with different abilities.
The game involves tactfully switching between (from left to right) Wheelie, Hover, Magno and Shrink, utilising their unique abilities and using teamwork to complete the levels filled with puzzles, obstacles and machines.
Wheelie's sprint ability makes him the fastest of the robots, capable of sprinting past fast moving objects.

Hover can jump higher and further to reach ledges out of reach of his comrades.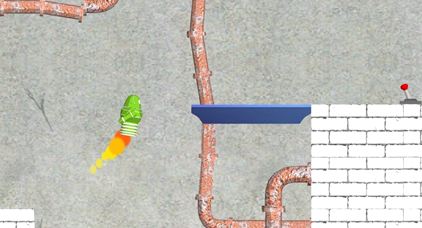 Magno can climb on magnetic surfaces, allowing him to get to places the others can't.

Shrink can fit himself into small pipes, vents and gaps that are too big for his more cumbersome companions.

Here's a few Gameplay Screenshots http://media.indiedb.com/cache/images/games/1/20/19289/thumb_620x2000/w2.JPGhttp://media.indiedb.com/cache/images/games/1/20/19289/thumb_620x2000/s1b.JPGhttp://media.indiedb.com/cache/images/games/1/20/19289/thumb_620x2000/h1.JPGhttp://media.indiedb.com/cache/images/games/1/20/19289/thumb_620x2000/m1.JPGStory Blurb

Decades of cast away projects have found their way into the factory with much more potential and life within them than what their creators never saw. These misfits have established their own utopia within the factory and seek that all 'new arrivals' join them in this new life, away from humans and masters, free to do as they please within the factory. Wheelie, Hover, Magno and Shrink are the latest 'arrivals' into this factory, and they need to cooperate to follow the factory's overseer to the utopia.

The game is free to play on our website

http://www.robotmisf...m/download.html

There are five playable levels to give you a taste of each character and the kind of levels you can expect to see.

We'd really appreciate your feedback. We also have a Facebook page and a website for you to get more information, news and updates. Feel free to drop some comments – we'd love to hear from you!

Facebook:

http://www.facebook.com/RobotMisfits

Website:

http://www.robotmisfits.com/

You can also track our progress on IndieDB.

http://www.indiedb.c...s/robot-misfits

Thanks guys, and enjoy!

http://public.gamedev.net//public/style_emoticons/default/smile.png

Crazy Donkey Games

Hi all,