Hey everyone, thought I'd tell you that I made a tool that might help out some people working on 2D games, especially 2D hardware accelerated games. Basically, it is similar to texture atlas building programs, except designed for sprites. Specifically, it works on different size sprites, and can also trim out the transparent areas around sprites to try and save video memory (The offset necessary to render them back properly is stored in the accompanying XML output file.) This could be useful if you want to reduce texture swaps or save VRAM in your game. Some other notes:
Requires .NET Framework 2.0 or Mono (works on Linux)
Fairly good packing heuristic, especially if you allow rotation
Sprites that don't fit on one page will overflow to a new page
Commandline support for running in a build script
Ability to rotate sprite frames to economize on space
Ability to colorkey sprite frames "automagically"
Can try smaller page sizes for the last page to try to reduce VRAM usage
Supports borders between sprite frames
Can detect duplicate images and let them share space on the output page
Source code included, but not particularly documented The main interface: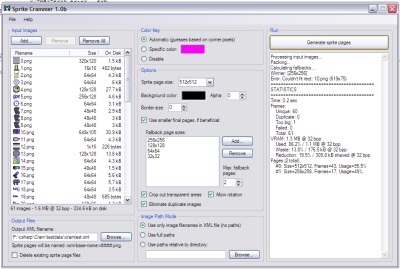 Example packed sprite page, using sprites from Ravuya's Glow:
This is the first public release, so please tell me if you run into any issues. There is also not a lot of documentation on the XML file it generates, but it is fairly straightforward to interpret, if you would like any clarification please ask. I'm going to write a doc for this someday... http://shilbert.com/files/Cram-1.0b.zip (85 kB)