Hey guys,
now its finally time to announce our first game: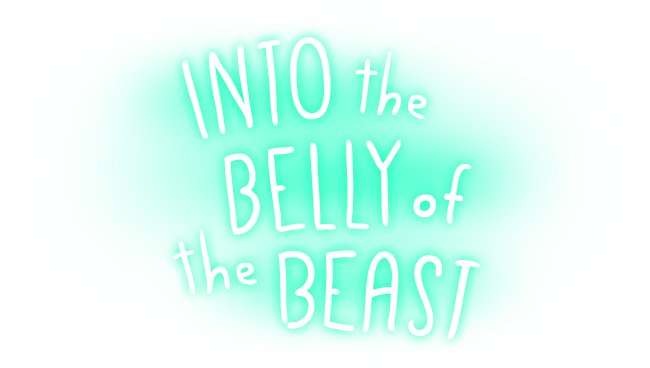 So far I have only been active in the sound & music corners of gamedev.net.
But with this game I not only got the chance to work on the Sound, but also on all the 3D & 2D stuff.
We are currently on Steam greenlight, so any support would be greatly appreciated!
Link to Steam greenlight:
http://steamcommunity.com/sharedfiles/filedetails/?id=552374827
(Alpha) Trailer:
Here is a little gameplay demo to show some more of the mechanics:
And here is some interresting sfx-making footage were you can see me smashing up some vegetables!:

About the Game:
Into the Belly of the Beast is a single-player, 3D action-adventure game.
You play a small worm-like creature exploring the ocean with your children.
Your journey starts when your offspring is suddenly swallowed by a giant sea monster.
Desperately trying to rescue them, you follow them into the belly of the beast.

The game is set up in a two-dimensional playing field and consists of different stages.
You unlock these stages by solving riddles, outsmarting the creatures living inside the beast and killing nasty bosses.
On your journey through the beast's body, you can deploy special powers, make friends and adapt yourself to your enemies with a unique DNA based eating feature.

Our game features a unique DNA based eating system.
Surely you could just try to kill anything you encounter, or… you could do the smarter thing and ally with one of two DNA factions, which are at war with each other, and unlock a number of different skills. Including such helpful abilities as speed, poisonous clouds and shooting thorns.
Battle your way through heaps of enemies and stand your ground against large bosses. Rescue your children and learn new abilities.
On your jouney you encounter a number of different creatures which will fill up your personal bestiary.

Solve a number of environment based riddles and directly interact with your game world to solve physics-based puzzles.
Use the powers of fire and electricity as tools, or as weapons against your enemies.

Prove your skill by maneuvering through difficult spots, teeming with deadly traps (some of which can also be used to kill your enemies).

Will you manage to save your children and escape from the beast?



Our Website: http://luckybrograms.com/
Cheers,
- Simon