Hey guys,

I'm creating a basic tileset for a quick little game, and I'm having trouble deciding what looks best!

I want to use gradients to give the game a nice unique and sleek look, but I also like the idea of making it look a little retro.

Below is a screenshot, the tiles on the right are the original, and the ones on the left I ran through a posterize filter to achieve that "lower bit" look (somewhere around the 32-bit era). What do you think?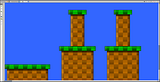 I am aware of a couple flaws in the sprite design itself, in fact I'll probably redo most of it, but before I do I want to settle on a style! Any suggestions?