We recently interviewed the owner of a new games studio and creator of Hero Arena, an exciting new action/rpg created in the unity engine.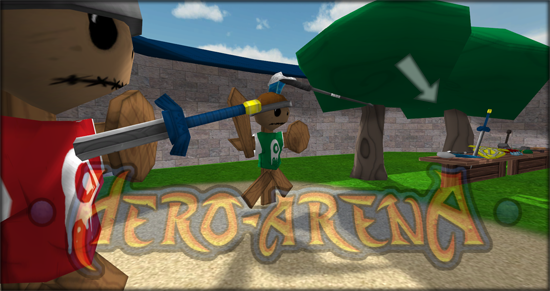 It was a cold and stormy night
. Our team of specially trained reporter monkeys approached the thinktank. After much nit-picking and shouting, having sent the monkeys back home, we learned that has a name, David. After a long while we learned that David leads his own Studio (Dark Side of the Pixel) on a game called "Hero-Arena", a blend of Action and RPG where the player faces off against waves of foes, alone, or with his friends… or decides to duel them. Not at all a game where you will have to walk around miles upon miles of grassland or roads to reach a quest giver. Here it is all about combat on the arena. With its cute graphics, humour and of course "Easy to get along with" idea this might be one of the most relaxing Indie Games coming out next year! Read below to find what we learned, from the thinktank.
LAG:
Well, let's start from the top, how would you describe Hero Arena, in a single sentence?
David:
Hero-Arena is an action/rpg that pits you and friends against waves of enemies or against each other with customized characters
LAG:
I looked at the Screens myself, and I have to ask you, did another game inspire you to design those specific models? It all feels very "Fairy Tale-ish".
David:
With Hero-Arena we're going for a fairly cartoon vibe , obviously big games like World of Warcraft with their hand painted textured inspired us quite a bit but also free to play MMO games like Eden Eternal and Dragon Nest are pretty hefty sources of inspiration as well.
LAG:
What do you feel makes Hero-Arena stand out from other Action/Rpgs?
David:
With Hero-Arena we're definitely trying to give it an over the top vibe with some really killer but simple visuals. The biggest catch is that H-A is completely browser based. Meaning at home or at work or wherever you drag your laptop to, you can jump in and play anytime !
LAG:
Huh. That is very interesting indeed! How will H-A work exactly? Let us say, I was a freshly registered user. What would I do next most likely?
You can read the rest of the interview here
http://lazyassgamer.com/prep-your-spells-and-blades-interview-with-david-head-of-hero-arena