I'm not an artist, btw. An artist will be able to tell you in more detail what's wrong, I can only say I dislike it, and guess at what combination of things lead to me disliking it. I'm sure in motion it'd probably be alot better, but I'm not seeing a moving image, I'm seeing a static image, and the static image is what is trying to sell me the game. Even video trailers probably won't get watched unless the static images first appeal.
There is no clear focus.
Generally unimportant things get boring unsaturated neutral colors. There are a lot of dim browns, muddy reds, dim greens so you don't bother to look at stuff that doesn't matter. Stuff that is important is usually hit with saturated or bright colors and use a lot of contrast. It is something most artists are so practiced at they do it without thought.
Generally level design pulls players toward key items with light and color and patterns. I haven't looked at the game, those might be there but are missing from the picture.
When I look at the image in the post above the first thing that jumps out at at me are the bright green/white leaves, then the bright white and red smoke trails, then the big white and gray walls. I don't particularly notice the health bars over players. It took several seconds of studying the image before noticing there was a big green circle (i) which I assume is for information.

For some comparison, the Super Mario Bros series has always done this particularly well. Primary colors for players, bright yellow for blocks you hit and coins, bold colors for enemies like turtles with bright red shells, blue shells, yellow shells, or high-saturated brown goombas along with their high contrast black-and-white eyes. Backgrounds are distant hills or castles or whatever and are typically muted pastels.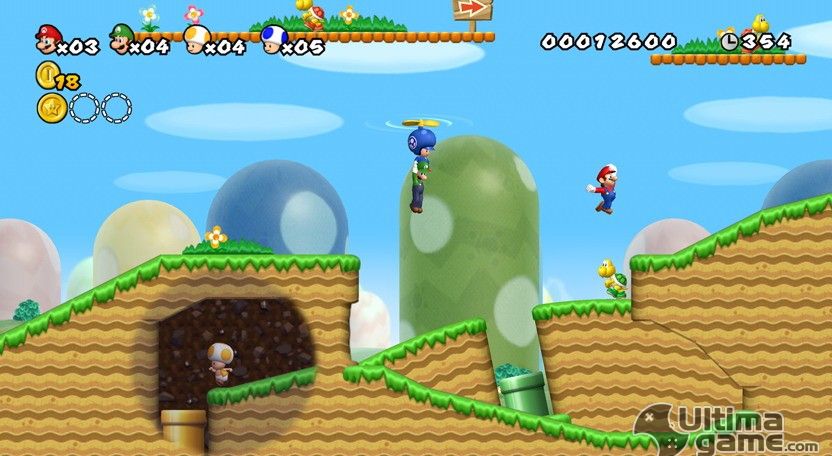 Or a few other images that demonstrate clearly showing the player what they should be looking at. Most have bright lines around players either coming straight through them, or ringing them around the ground, or bright yellow or bright red warnings, etc. Stuff that doesn't matter is dark or muted: