1
1
votes
Gettysburg: Armored Warfare - Huge Update! 64 players-per-server, Steam, PIC 2012!
---
Posted by

dgreen02

|
03 February 2012
|
2,891 views
Gettysburg Armored Warfare
Radioactive Software
---
---
Hey guys,

I'm returning from the frozen land of Stockholm, Sweden :-o I was there for my publishers convention, Paradox Interactive Convention 2012, in a Swedish castle showing the game to a bunch of press. Sorry for the lack of updates lately, I've been super busy finishing up my latest game Gettysburg: Armored Warfare You can view the website here - http://www.armoredwarfare.com this is the game I was showing. If you want much more frequent updates, I post on the game's Facebook page as often as possible - http://www.facebook....gArmoredWarfare

A quick summary of the game would be - This guy goes back in-time to change the outcome of the American Civil War and you get this Steampunk mix of future technology and 19th century technology. The game is a RTS/FPS hybrid supporting 64 players per server gameplay, full stat and achievements through the Steam platform, cloud storage of custom armies, and a full featured world editor accessable in-game.

Since I wrote all this technology and the game in the last year, the game pretty much from scratch it's crazy for me to see it all working like this on BETA test servers all over the world, especially on Steam platform. I have a 64 player test session tomorrow, we are using a 3rd party QA studio to handle all the testing.




There has been so much happening in terms of the game and the technology behind it. The biggest thing I'm happy about is the achievement of 64 players per server, and the announcement that the game will be for sale on Steam platform in March of 2012. As somebody who grew up playing Counter-Strike and other Valve games on Steam...it's just awesome :-D

There are two key gameplay modes :
- Deathmatch ( 64 players per server, shared units, RTS orders disabled ).
- Army Skirmish ( 4 players per server, each controlling their own army, full RTS orders ).

You can also play the game offline practice with AI bots. I've included AI bots on the dedicated servers as well ... imagine running around in Battlefield with bots ? :-p





64 Players Per Server. *does happy dance* I'm very happy to have achieved data rates on par with some of the best games I've seen. I can syncronize up to 1024 units among all 64 players in the server. Data rates are about 10kbps-20kbps up from the server to each client, with the clients only sending about 2-5kbps up the the server in average situations.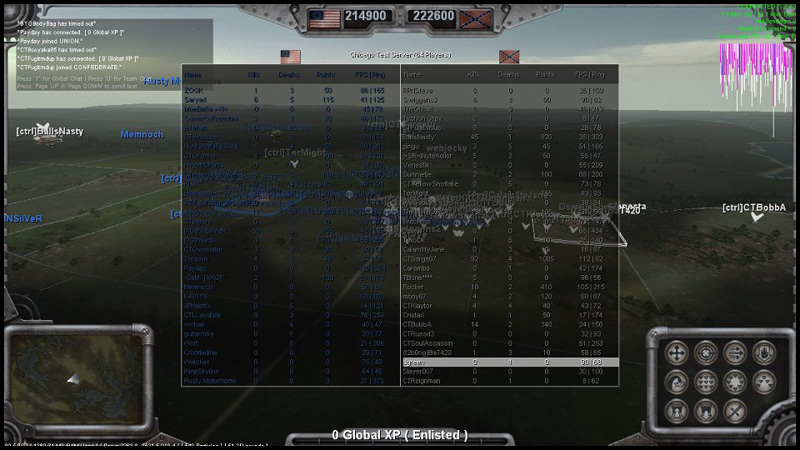 PRESS - As you can imagine there has been a great amount of press from Paradox Interactive Convention 2012...I will link you guys to some of my favorite ones so far, there are a bunch I'm leaving out, just google for the game 'Gettysburg: Armored Warfare' if you want more :-o

Gamespy/IGN Preview of Gettysburg: Armored Warfare : http://pc.gamespy.co.../1217105p1.html

Rock, Paper, Shotgun preview of Gettysburg: Armored Warfare - http://www.rockpaper...rmored-warfare/

Great Interview with Angry Joe - http://www.blistered...iew-gettysburg/

RTS Guru Interview with me - http://www.rtsguru.c...anny-Green.html

GameTrailers videos - www.gametrailers.com/game/gettysburg-armored-warfare/14430/

Games Radar video walkthrough - http://www.gamesrada...e-preview-demo/

RTS Guru preview of Gettysburg: Armored Warfare - http://www.rtsguru.c...re-Preview.html

DESTRUCTOID posted a video of an interview in the castle - http://www.destructoid.com/gettysburg-is-an-alt-history-take-on-the-civil-war-220524.phtml

Gamers Daily News 3 page preview of Gettysburg: Armored Warfare - http://www.gamersdailynews.com/article-3243-Gettysburg-Armoured-Warfare-First-Look.html

http://www.youtube.com/watch?v=2Ke27QwQnXA

Angry Joe giving me the treatment -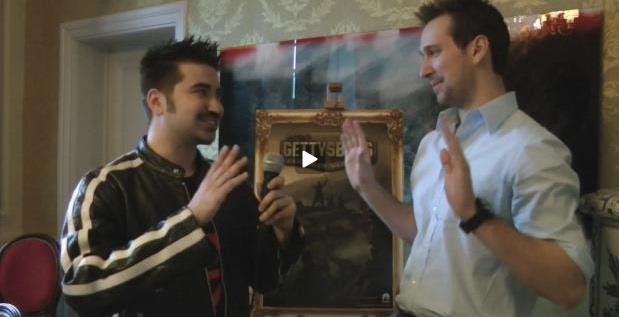 Oh HAI a picture of a tank ...





Anyways, the trip to Sweden was amazing, had such a great time meeting all the press and cool people at Paradox, they really are probably the best publisher in the world for an independent studio / team / dude like myself! I love them.

Again, sorry for not stopping by in so long ... I've been so damn busy with all this stuff. I plan to become a lot more active in the community again once I finish this project. Until then you can follow the game on facebook - http://www.facebook....gArmoredWarfare

I'm also starting to use twitter for a change - it makes it easier to release quick status updates - http://twitter.com/TheRealDgreen

If anybody has questions about anything in terms of the tech, or anything regarding the game in general I'd love to answer them...I've gotten so much out of this community over the years I'll do anything I can to give back to it :-)

- Dan