Entry posted by Mushu ·
162 views
On Emulators and the Revolution
Okay, first a little background. My flatmates and I have recently really gotten back into emulated games (primarily SNES and N64 platforms), because there are some really awesomeness games out there. Though to be fair, I think N64 emulation is stupid since we can (and are going to get) a working system.
Anyway.
I was taking a poop and thinking about an emulator which could play any type of game (NES, SNES, N64, etc), and I realized - the Revolution does that! Awesome!
Ever since hearing the news that the Revolution will provide backwards playability for old games I decided I'd have to get one. Though a lot of the old games are shit (just like nowadays) there are more than enough gems to make it worth my while (and money)

(Front Mission, opening. Karen gets pwnt.)
At this point, I'm hoping for a couple of things -
For the love of all things good, don't charge more than $10 for a SNES ROM. Seriously. I'm not going to pay a ton of cash for games that I've already played a billion times. They still have to compete with modern games for my money - I'd probably pay around $5 each easily enough though.


For the love of all things good, please please PLEASE work out a good way to bind keys to the base Revolution controller and/or add-ons. A lot of old games (read: Contra 3's top-down levels) basically require there to be L and R buttons placed such that you can press them and strafe at the same time. (L and R rotate your character, while the left/right directional buttons strafe).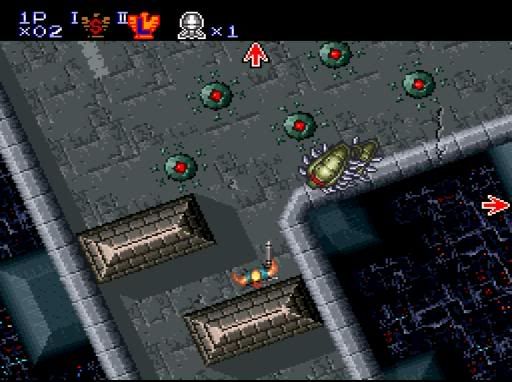 (Contra 3, Stage 2)
That said, I'm exceeding excited about it. If they do everything nicely, I'll be really pleased with the results - being able to go from Contra (NES) to Contra 3 (SNES) to Super Smash Brothers (N64) without booting separate systems/emulators would be absolute sex. Not to mention having nice customizable controller layouts. mmm.
Finally, to close - a short list of SNES games that I've found I enjoy a lot. In no particular order.
Bust a Move

Chrono Trigger

Contra 3

Donkey Kong Country

Front Mission (1&2)

Space Invaders

Street Fighter 2

Super Mario World 3

Tetris
Okay, I lied about them not being in order. That's essentially the short list of games you
have
to play some time in your life - they're simply awesome to the point where they're fun no matter the year. And those are just the SNES ones.
Anyway, this has been another random rant by Mushu, who is not currently under the influence of alcohol :(