New additions to the Desk
Entry posted by Gaiiden ·
158 views
Friday, Apr 14
It's always fun to mod your workplace, which in my case consists of the desk in my room. Yesterday I got my hard drive and external enclosure (the one I talked about a
few days ago
) and that was set up in less that 30 minutes. What a breeze, the only minor trouble was that I had to adjust the positioning of the power connector in the external enclosure to match up to the HDD but that wasn't a huge deal. Then I just plugged it in, used the Western Digital tools to format the drive, and bada-bing bada-boom - new hard drive! w00t!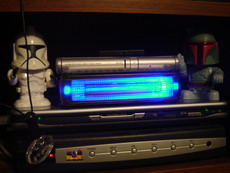 You want my drive? You want it? Try getting through Boba and Trooper TK-727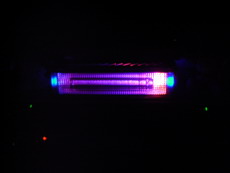 The drive working light is orange. Orange + Blue? Well you see the result [grin] The girls dig it
A week or so ago I picked up a Targus Chillpad, which is a USB-powered dual-fan base that goes under your laptop to keep it cooler - I was having problems playing
Empire at War
and having the comp shut off on me - not good to say the least, haha. The Chillpad ($30 from Staples) works as-advertised, haven't had a single crash since while playing. As an added bonus, it elevates the laptop just above my keyboard, which is awesome cause my optical drive and memory stick reader are in the front of my machine, so I no longer have to slide the keyboard back to access them. Ahhhhhh...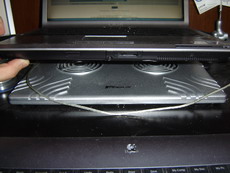 The other project I took on today was hacking apart my keyboard tray to make a shelf under my desk. I took the keyboard tray out so I could slide my chair farther under the desk and get a better body position while I was working. A few days ago I realized I could use it like so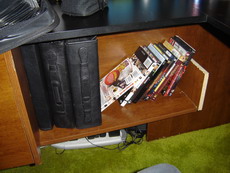 We really don't have much in the way of power tools... I used a hacksaw to shorten the tray and then a hammer and screwdriver to screw it into the desk from the bottom and to add the remainder of the tray to the side as a bookend. It's more than sturdy enough to hold my CD books and DVDs so works for me [smile]
Yea I got bit by the DIY bug, haha. Tomorrow I'm doing a few things to my car as well. Wheee. I'm also watching a Syncmaster 172x on eBay (the 17" LCD panel I have now, which has been discontinued). I might be spending my rebate check early, bwahaha [evil] Can't wait to pimp out the workstation with a third monitor (counting my laptop). However on the flipside I'm very very quickly running out of available plugs on my two power strips, hahaha. Although the HDD enclosure's pic on NewEgg showed it used a power brick, the one I got has the freakin adapter on the plug, which
really
wreaked havoc. I'm thinking of maybe plopping down a few George's (the small ones) for a
PowerSquid
- although I could also use my Geek Points with a $15 purchase and get one for free... hmmm those marketing bastards may make me spend more money :P