Wednesday, Apr 26
So I ended up ordering my
new drive
before going to bed that
fateful night
. NewEgg has a warehouse in Jersey, so despite the fact that I have to pay sales tax (bah) that means 1 day ground shipping, so I tacked on an extra $3 for rush processing to make doubly sure the drive was sent out Monday. It was and arrived yesterday, although in a manner that makes me want to shoot the next UPS delivery person I see. I woke up early to catch the delivery and heard the truck driving down the street and ran to my window only to see it seemingly pass my house and continue on. What I didn't realize is that it wasn't driving
by
my house, it had just
pulled away
from my house. Regardless I went down to the front door and looked out on the porch - no package. I even went down to the mailbox. No package. Double checked the door for a notice that they had attempted delivery. None. Looked out back - my last delivery had been left out back when no one answered the door. Nope. So I waited. And waited. Finally nearly two hours later my mom comes home and brings a package inside. It had been placed by the garage door. AUURRRGGHHH!!!! They didn't even ring the freaking doorbell?!? I was awake!!
So yea that sucked. Anyways I swapped that sucker in pronto. Here's the full story.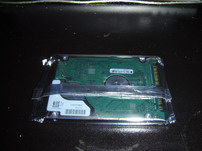 The new drive, still in its anti-static wrap. It was an OEM drive, so this is how it arrived, bubble-wrapped in a box :p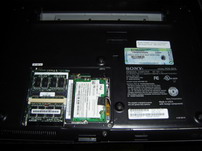 Step 1: Flip the lappie over and remove two screws holding down the cover for the RAM and wireless adapter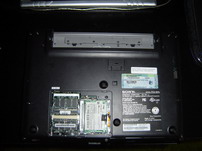 Step 2: Remove the ten screws on the bottom of the case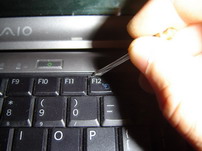 Step 3: Use a screwdriver to push down on these tabs, one over the F12 key and another over the F4 key to pop up the keyboard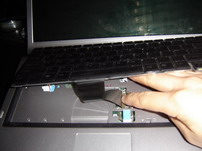 Step 4: Remove the keyboard ribbon by flicking down its mount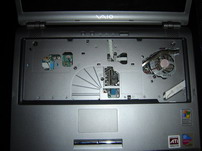 Step 5: Unscrew five more screws - it took me like 15 minutes to figure out why I couldn't get the damn cover off after taking out the bottom screws when I first took it apart to remove the busted drive. Tricksy Sony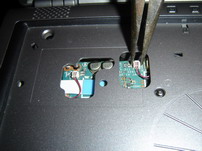 Step 6: Caaarreeefully detach the audio cables. Very delicate - I almost broke off the one on the left during my first servicing, eep!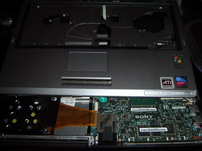 Step 7: There's still a ribbon attached that I was hesitatnt to try and disconnect so I let it be - I was able to get the cover plate up high enough to expose the HDD bay (lower right) anyways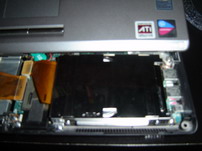 Blech didn't realize this photo was so fuzzy when I took it. Anyways this is the new HDD caged and installed. Boo yah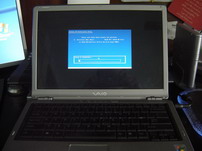 Peice it all back together... and we have lift off!!
So I formatted and reinstalled windows yesterday and I've spent all day today doing nothing but installing applications and tweaking windows. Everything's now back up and running and streamlined - my services are tweaked, my startup items are tweaked, hard drive is defragged, boot process streamlined (oh wait I still have to run bootvis - drat!). Yea, a drive image would definetly be easier than installing everything all over again, but I like it because it's a chance for me to refine things - maybe use a different app for this task, or setup this app a little different, try a new app, stuff like that. I guess this would be like... Clean Install v15. Gee that's kinda sad [lol]
Ahhhhh... but, always nice to have a "clean" computer you know? Yes indeed. Okay well, it seems to be getting light outside - blasted thing about this time of year is that it's so damn difficult getting to bed before the sun rises. What a nuisance :P
Video forthcoming - busted out a new trick at the gym on trampoline. Yup got to name another one [grin] But that's for another entry...