Entry posted by Mushu ·
149 views
Whooaaaa, I like GIMP. Its much better than MS Paint:
Yeah, I'm being minimalistic with the animation, especially when compared to other people's (commercial) stuff -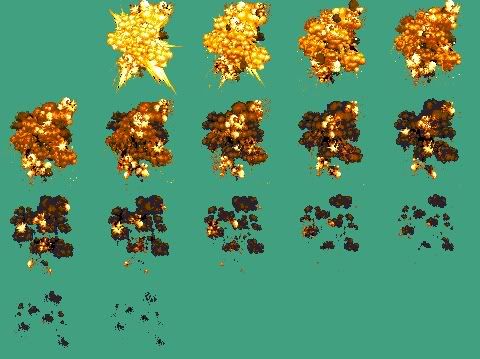 But do I look like an artist? NO! Am I going to sit here for hours and blot out 16 frames of animation? NO! I just want it to look good for a programmer, not good like I'm going to sell it as a commercial project. LOL.
I'm proud of myself at least :[
Current Build
: I put in the new artwork, and fixed the bugs with the mouse handling. The player ship now reacts more intelligently to the mouse (and omg, slows down and stops where you stop!! thanks for the suggestion).
Next on the to-do list is background layers, clouds and shit. The trees there are just for a placeholder, the plan is to have a nice tilemap in the background, behind a couple layers of clouds. Everything scrolling at different rates of course (yay parallax!), and possibly a layer on top of everything else (not sure if I'm going to do that though).
Comments/Suggestions/Complaints are always welcome! :)