Entry posted by Mushu ·
121 views
I'm kind of upset. I went shopping today; wanted to pick up a datacable for my cellphone (TG5200) so I could upload the pictures I took onto 4chan for... general amusement but fucking
no one
had the damned cable. And I don't have a car, so that means walking around the whole fucking city going into every electronics store in sight all afternoon. AUUGH!
I also wanted to get
Stone of Tears
, the next book in the
Sword of Truth
series by Terry Goodkind, but NOOOOOO NOOO ONE HAS THAT BOOK EITHER. AUUUGUHHHHH. I guess I'll be reading
Magician
sooner than I had anticipated. Blah.
I did get some stuff though. I saw
this book
at the store and was like "awesome 300-page hardcover book with lots of pictures for $15?? WIN!" and bought it. Its pretty sweet. Tagno says I'm going to turn into an alcoholic one of these days. What he doesn't know is that I'm already an alcoholic. Hur hur!
Also got some sidewalk chalk (like... 4 huge buckets of it) for tommorrow evening.
CAINE
, the UVA Anime and Comic club is posting flyers made last night for memberships. I'm not sure why we're posting flyers, because no one reads flyers. People read sidewalk chalk advertisements though -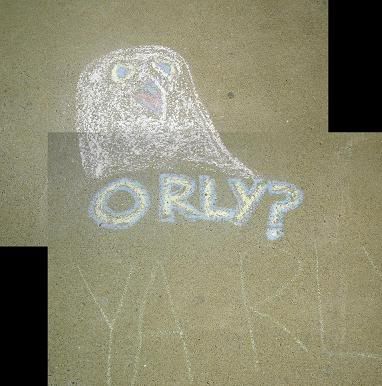 So yeah. Also, photobucket deleted
one of my pictures
because it, apparently, violated the terms of service. lolol.
Slice my delicious bread!!!