Entry posted by Mushu ·
476 views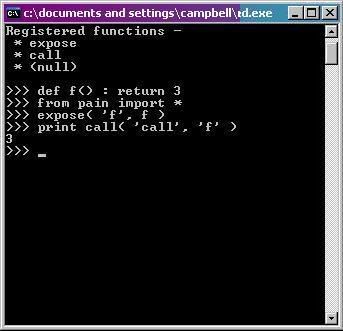 Python -> "calls" C -> "calls" Python -> Propagates expected value!
Yayayayay. Now to flesh out the templates so they accept more than 2 argument functions (lolol lots of repetitive template code to write :O) and then to do the data sharing between Python<->C. Basically, registering C structs as Python object types.
Also, I think I've found a way to get around the dilemma discussed before (the
call('funcname')
syntax with Pythong) - functions can be represented in Python as an object which implements
__call__
(essentially a function object). If I (from C++) create such an object whose
__call__
method passes the arguments AND a unique string to identify which function is being called to the function call handler in C++, then I can effectively use the desired (normal) syntax
funcname(args)
. Which is cool.
It'll take a couple more days to implement that though :(