So I had a mantastic discussion with Salsa in my last entry...apparently the current name of my game sux0rs [grin]. So I spent a few minutes typing up a list of potential names, already taken names, and a word bank of 'Gangsterific' words.
My publisher brought up the idea of changing the game's name after Konami released the *ahem* less than average game, called 'Crime Life: Gang Wars' which is the epitome of the 'trying to cash in on the gangster genre boom' game, average rating 2.0/10.0
Needless to say I'm hoping to do a
little
better than that with my game. I'm bringing some fresh elements to the table in terms of combining the RTS/Action genres, and including complete multiplayer (not just some ad-hoc bullshit). I'll spare you guys the list of uber-features my game has (which you should know by now if you follow my journal).
Anyways...Here is the 'list' so far...I'll be kicking around ideas for the next few days, but this is what I have so far (obviously I need you guys to let me know if I left anything out, or if you have a crucial name suggestion) -
Let's start out with the names that I can't use -
----------------
Gangsters
Kingpin
Grand Theft Auto
Mafia
25 to life
Crime Life: Gang Wars
Saints Row
True Crime
Godfather
Alright...now my current name -
---------------------
Gang War: The Urban Gang Simulator
Some Potential names (in no particular order) -
----------------------
Mob Rule: The Gangster Simulation
Crime Empire: The Gang Simulator
Mob City: The Gangster Underworld
Underworld : The Gangster Simulation
Blood Respect: The Gang Simulation
Crime Overlord
simGangster
Mafiaso
Hood War: The Gang Simulator
Thug Life: RIP Tupac...Respect ;-)
Gang World
Crime World
Crime City
Gang City: The Urban Gang Simulator
Gang Empire
GangsterSim
Felony Wars: The path to perdition ;-)
Any my already incomplete 'word bank' which I will be adding to -
----------------
Overlord
Hood
Respect
War
Gang
Felony
Urban
Blood
Empire
Vice
Command
Black Hand
Cosa Nostra
Syndicate
The Mob
Mobster
Boss
Commander
Goon
Thug
Yea...as you can see it's easier said than done to come up with an original name for a Gangster game, in this day and age. At least I'm not making a WW2 game, the only genre that might be more overcrowded.
Alright, I need feedback/suggestions, don't cop out on me now GameDev [grin]. I am trying to have the 'Urban Gang Simulation' bit (or something similar) in there, just because there is no denying the
type
of game I'm making, if thats in there.
There has not been a gangster simulation since 'Gangsters' back in '98 so that market is wide open. Also since most companies are focusing on the PS3/360 the PC market is begging for a sweet gangster game. My game is still quite unknown (and will stay that way until BETA+) so I don't think changing the name at this point will be a problem.
Personal Note
-------------------
I've also just got my hands on a Logitech G15 'Gaming Keyboard'...yea it set me back like $100 bucks, but I'm a fan of it for sure.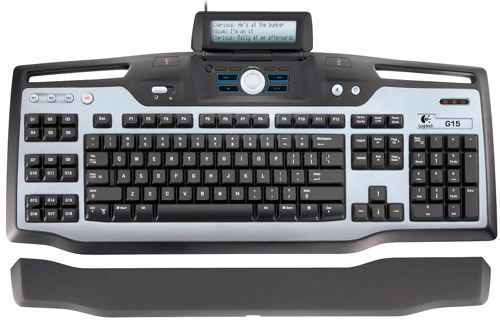 This baby has got a LCD screen, and illuminated LCD keys as well! Yes they also included the C++ SDK so I'm gonna crank out some stuff for this bad boy (not just "Gang War" specific, but lots of other stuff). I was planning on coding up a Winamp plugin for it...but it already came with a perfect one, also you can switch to a clock/calander mode. Also it can tell you when you have a new e-mail!
In addition to that, it also has a mode that displays your system CPU/RAM usage. This is like the coolest thing I've got in a while (in like 2 weeks hehe). I could go on and on...but I highly recommend picking one of these up. Having the ability to scroll through your winamp playlist while in-game via the LCD screen is just too sweet. Before I was messing with the global-hotkeys, and some games blocked that functionality. I'm a happy camper though...honestly I can't think of any other gadgets to buy at this point in time...but I'll come up with something...don't worry...I'll come up with something.
- Dan