-------------------------
Fost - Mr. Robot Art
-------------------------
It's Done!
Well, the game is now finished! (you can grab the demo
here
). It's been so long in development, that it hasn't really sunk in yet. It's a great feeling - the only way I could describe it is like when you pass your driving test and get to drive around on your own for the first time with a big beaming grin on your face. :D
This is probably the last diary we'll make for a while, although we might consider starting them up again once our next project is under way.
Launch Plan
The first thing we've done is email all our existing customers. From start to finish, this process took nearly a week of constant work by the email server. Before anyone thinks we have millions of Starscape customers, we worked out that this was because of our outgoing email scanner on the server which is taking a while to individually scan each message.
We've tried to make a newsletter with some fun things in it by adding a few silly facts and a newspaper style comic. If you missed it, you can read it online here:
www.moonpod.com/newsletter/
Around 15% of the emails we sent out bounce. I'd expected it to be much higher since some of the email addresses spanned back almost as far as 4 years, but it seems many of them have been kept up to date. Interestingly, the most common places the newsletter has bounced from are universities (makes sense as people move on) and mainstream game development companies. The latter shows that we get a surprising number of sales from people working at games companies (I can't really think why that might be), and that people at games companies move around a hell of a lot!
No idea yet how many people who liked and bought Starscape will also buy Mr. Robot. They are both two very different games, so might appeal to different crowds. Maybe we'll just end up with more different customers on our site.
Ongoing Work
Editor Documentation
Right now, the editor documentation is pretty sparse, and there's a lot that needs to be added. My ongoing task is to keep updating this with a full reference, tutorials and examples. We intend to support adventure authors as much as we can well into the future and so there's a lot to do just to help get everybody up to speed with the minimal effort on their part.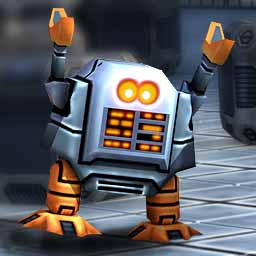 Save Huey!
Partly as an example for adventure authors and partly as an extra for everyone who's bought Mr. Robot, I'm working on a micro adventure that will be available on the Mr. Robot content sharing system.
On accidentally falling into a sub-level of Cryogenics, you discover a trapped nanomek named Huey. I always thought the nanomek rooms were fun in the same way ChuChu Rocket and Lemmings are, so this adventure concentrates on them. They'll probably be a bit harder than the existing rooms though, so the despite the fact there's only 5 rooms at the moment they should prove to be a challenging diversion.
Since you get all the source files, they should illustrate some of the basics of lua scripting adventures - launching conversation, opening and closing doors and detecting a robot's position.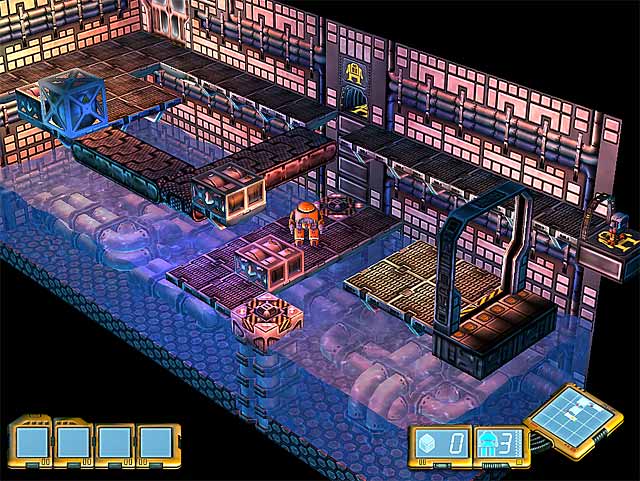 One of the WIP rooms in the 'Save Huey' adventure - coming soon to the Mr. Robot content network :)
Prototyping
Other than that, I'm making a few inroads into our protyping work. I have a couple of games that can be investigated with mockup videos, and I've got some collision artwork to make for the other 'working' prototypes.
------------------------------------
Poo Bear - Mr. Robot Programming
------------------------------------
Can anything else go wrong?
We had a fun December, here's a list of everything that went wrong:
My PC exploded. One minute everything was working fine, there was a pop and then the PC wouldn't switch on. Almost everything in it was toasted - graphics card, motherboard, power supply - even the CD-ROM was dead. The hard drive was the only thing that worked, which was lucky, because it was the only thing I really cared about.


An error in the lua script that builds the installer took out the entire installer build directory, which then took 3 days to recreate.


Nick fell down the stairs to his loft, landing on his head. Luckily, he was carrying his removable hard drive at the time (the one which contains all his work) which broke his fall :( It then promptly stopped working. Thankfully, it was just the case circuitry that seemed to be dead, as we lifted the hard drive out and plugged it into an internal IDE slot and it worked.


A short power cut in Sheffield caused a power surge that burnt out our router. We were uploading an updated purchase page at the time and only half of it got uploaded, stopping Starscape sales for a day and a half.


I then contracted the Flu. Not the kind of flu you have when you want to take a day off work, but the kind where it's difficult to stay out of bed for more than 2 hours a day.


Nick then contracted some form Deli Belly (the 'both ends' kind :shock: ), which got to the point where he was considering working off a laptop whilst sat on the loo.


Happy shopper ran out of value cola due to the Christmas demand.


The cocktail sticks that were holding our eyes open finally snapped.
So, what next?
We've yet to make a decision on our next game, but there's plenty of time to make our minds up. Right now, I'm working on the Mr. Robot point release which should address any outstanding bugs. After that, we have the Starscape 1.6 update in the works, and then our Mr. Robot expansion will get under way. In the meantime, we are prototyping a couple of ideas and I'm sure one of them will end up getting more attention than the others, and become the game we really want to make next.
It's too early to talk about any of them, but here's a couple of teaser pictures of the prototypes we have in progress: