I have been doing some major updates lately, but I haven't posted anything because I've just been using place holders that I drew in ms paint in about 5 seconds. About everything is done with the inventory menu and character page. Equipping is about done and i'm working on special attacks at the moment. I also took a break for a day or two to make our webpage, which is currently being hosted here on gamedev but we are going get a real domain name soon. Check it out, and tell us what you think of it!
Our Web Page
Here are some screen shots that are 100% complete and not placeholders.
Here our monster man is equipped with a wood club, or it might be a cricket bat. You can also see the discription of the item as well as its stats. The awesome hud shows the beautiful picture of the equipped weapon.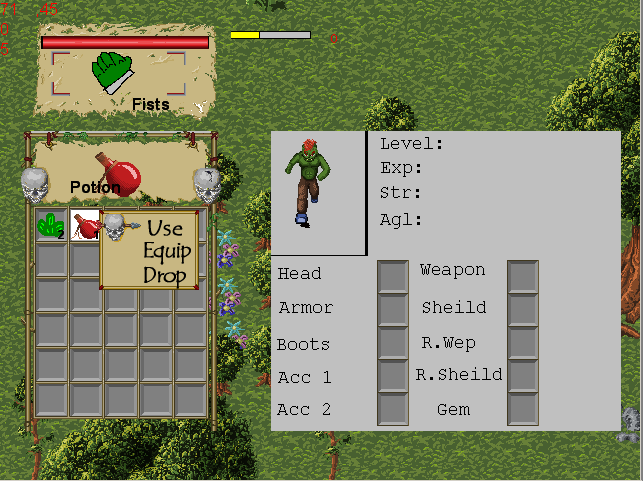 Here you can see the menu selection arrow. Looks pretty cool, and pretty scary.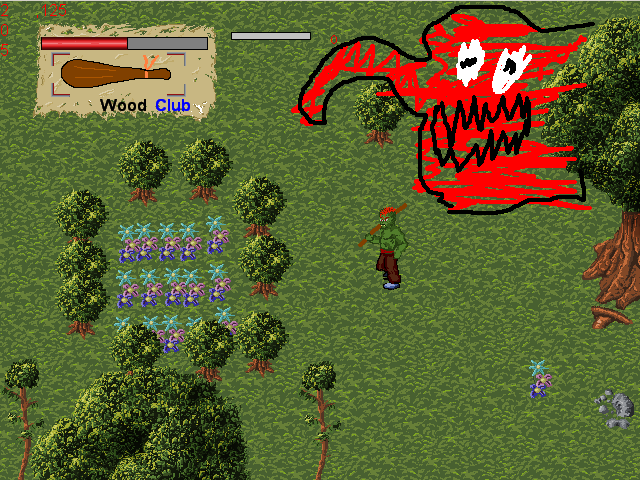 I thought I would show a picture of the character's more emotional side. Here he is visiting his favorite flower garden in the forest. Also, if you look close enough, you can catch a glimpse of the ending boss hiding behind a tree in the background.
-------------------------------------------------------------------------------
Alright, so actually all of these are placeholders, except for the red squigly monster, I just drew him in there with ms-paint. Every single graphic you see up there is going to be changed. Nizzate is working on the character animations right now so i'm stuck with creating my own graphics for the moment. Right now I only have the rough versions of the character and background images (super rough). The new ones are a lot better, I just havent added them in yet. We are also getting rid of that super retarded pig because he looks like a piece of k-rap.
Well, I just wanted to post an update since I haven't in awhile. I just don't really like posting them up with crap graphics, but here they are anyway. The real graphics are going to be a lot better, trust me.
-HCR