March 24, 2008 - Urban Empires Update + Screens
I'm working on a lot of stuff right now including :
- iteration #2 of the dynamic debris system
- iteration #3 of the dynamic civilian system
- Various RTS aspects
- Vehicle movement tweaking
- Mini-map stuff
- Blah blah blah blah
I've spent most of the last week working on memory issues, I slammed against the "2GB" 32-bit OS limitation. 32-bits = 4 billion values, XP/Vista allocate half of the memory (2GBs) to the application, and the other 2GB to the kernel, so I only get access to 2GB when it comes down to it. Closer to 1.6GB in practice ( using Get ProcessMemoryInfo fuctionm using the WorkingSetSize member, seems to be the only relevant piece of info in that struct). I've coded a visual memory usage graph that can run 24/7 so I can watch the memory grow. I've also added timestamps and RAM usage to ALL debug/logging statements to give me a better feel for what's going on with the game when looking over the logs.
The resulting lame memory limitation, coupled with the increase of the # of in-game vehicles to over 40, and the number of weapons/characters nearing 40...considering I have 5GB of texture data alone...I'm in some trouble.
The problem with my scenes is that everything can be visible at once...never a good thing.
Using this 1.5GB limitation I've settled on a nice 690MB idle @ the main menu, and in major gameplay usage goes up to the 1.5GB mark with 100s of characters in the scene (each with their own animation controllers, etc.).
I've been tackling so many issues lately because of this...it makes my head hurt :-p
Ususally the game will be cruising at aroung 1.06GB of memory usage...this is with the city textures @ 50% quality (no normal mapping), and the vehicles/characters/weapons/props at 25% quality (considering 100% is 2048x2048 color/normal/spec maps on everything).
I have some systems to substitute-in the higher quality textures for controlled/important objects in the scene, etc....
Anyways here are ~30 resized screenies of the game...I'm running extensive tests to see how many civilian characters I'll be able to get away with in a scene...more info to come.

It's very close to being testable, this is the 3rd time around, creating many of these systems so I'm tired of doing it....but now I have a game engine I'm really happy with.
As usual if you want in the BETA, e-mail me ( dgreen aaatttt radioactive-software.com ) BETA in the e-mail title & with:
- Name
- Location
- Comp specs
- Experience testing games
- Any other stuff you wanna tell me
I'm also working on art production for my next title., right now it's assembling reference images, getting the specs to the artist, proto-typing assets, etc...
Okey...I've put in my 18 hours for today...time to faceplant on my bed.
- Danny
[Edit]
Ohhh yeaaa, I think I found a solution to the 32-bit memory limitation ;-)
-dualboot XP 32-bit & Vista Ultimate 64-bit
-Triple SLI, 3 8800GTX, 2+GB dedicated video memory total
-8GB titanium RAM @ 800mhz
-2 HDDs, a terrabyte samgung for XP, and a 200GB Raptor @ 10,000RPM for Vista
-Nvidia 780i motherboard
-Blu-ray burner/reader, DVD burner/reader, CD burner/reader
-Coolermaster tower 1k power supply [ this case is FIN' HUGE]
-Insane thermal cooling unit for CPU
-Placeholder Q8800-soemthing-quad-core processor...was only like 300$...will replace soon.
-Some other crazy shit I'm forgetting...
The gear -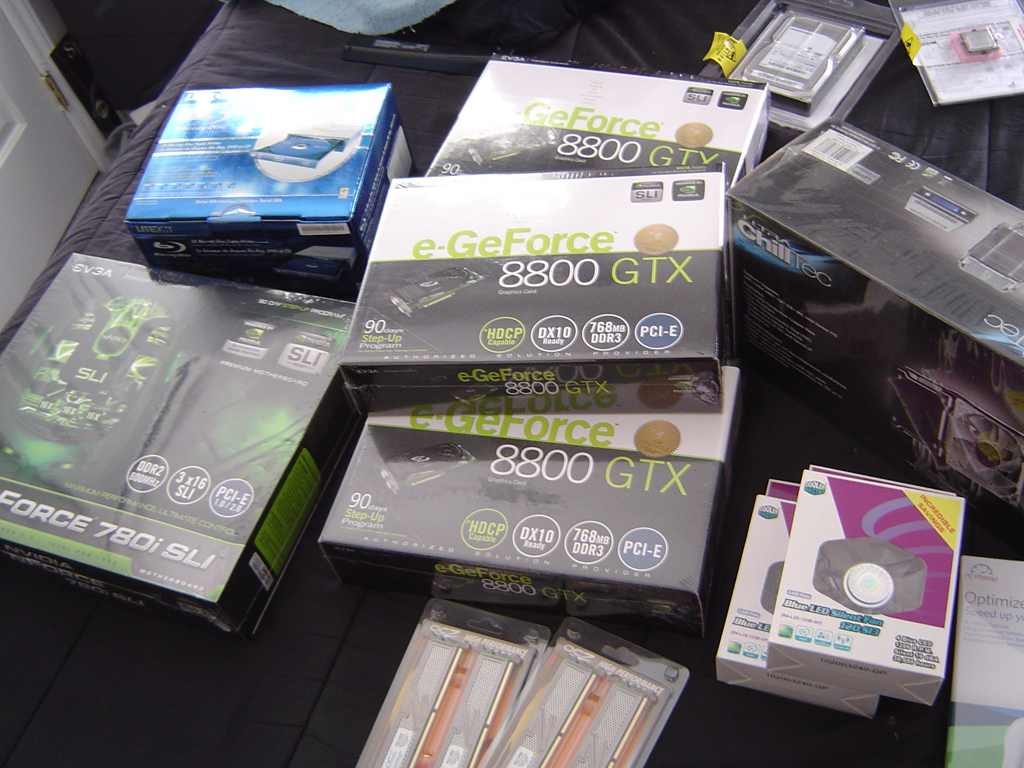 50" 1080p plasma, PS3, etc...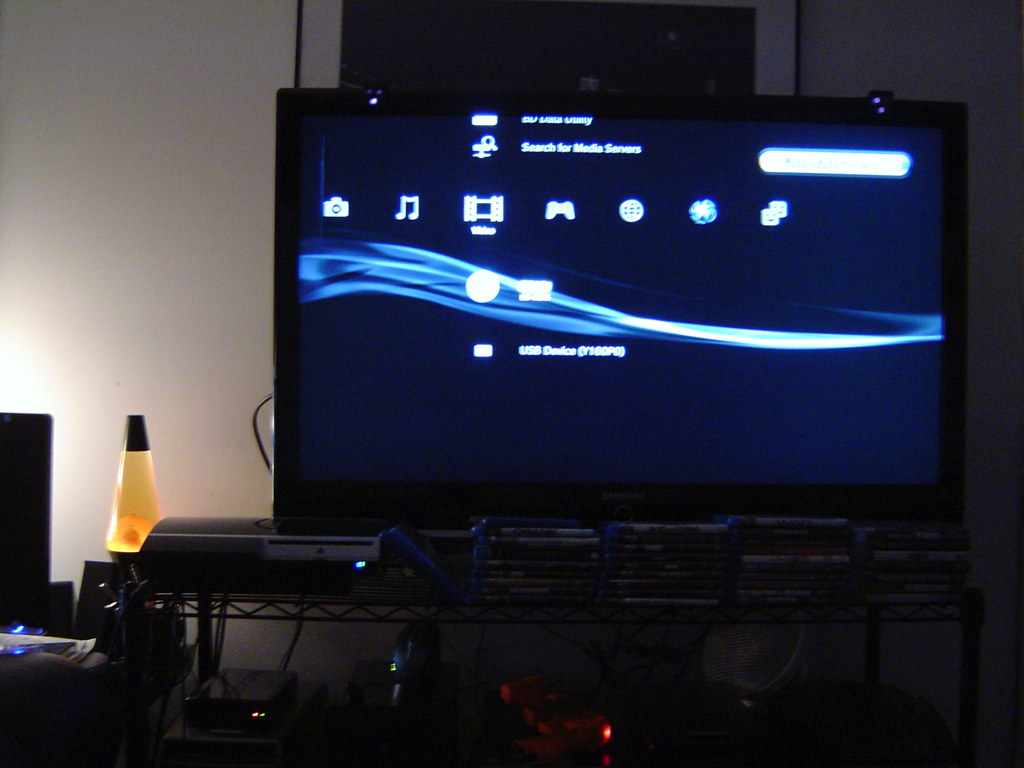 Where all the magic happens...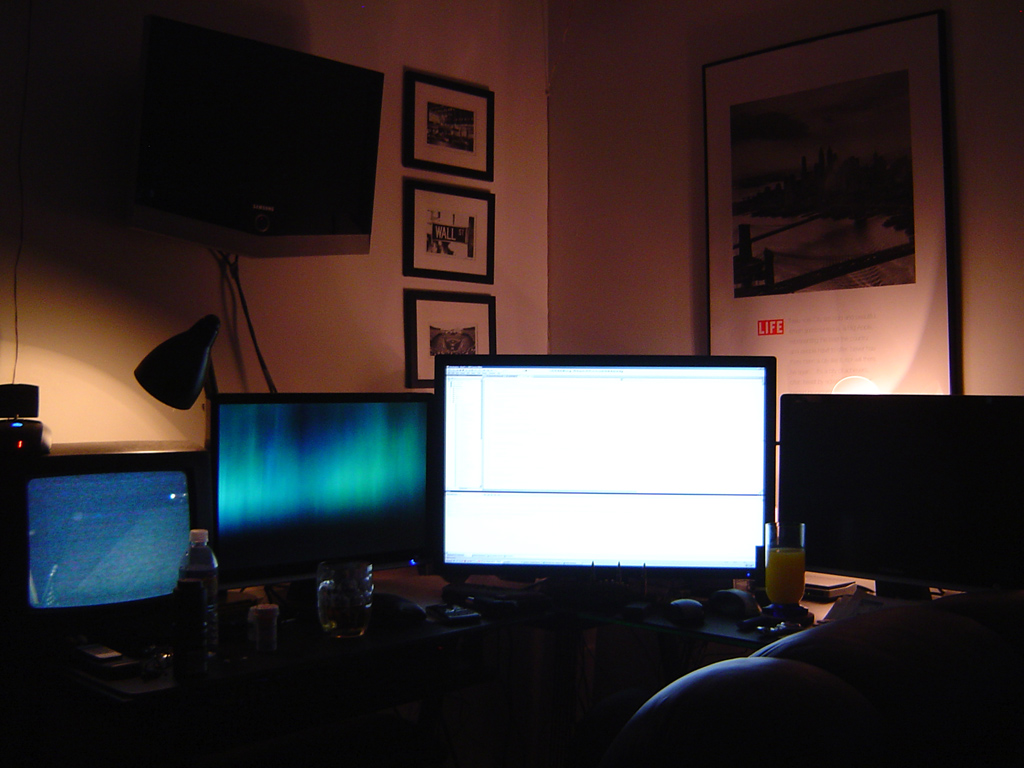 Final deal...I've gotta KVM a buncha stuff and I'm really busy so I have not even powered it on! rofl. *runs away*