Entry posted by O-san ·
1880 views
To keep these journal entries some what regular here is an update.
There's still no news when the make-em-up competition is going to be finished so I wait a little bit longer on releasing my prototype. On the programming side I've implemented move undo/redo beside the add/delete undo/redo. I have also worked on how I want map changes to take place and what role zones will play in this. Each zone will have a trigger which is called whenever the player character walks into or out of a zone... an OnEnter and OnExit event. This event will trigger the execution of a script which will load the desired map. The actual function to load the map will be something like:
loadmap("themap.nmp",5)
This will of course load "themap.nmp" and also spawn the player at zone #5. Specifying -1 will not spawn the player after the map has been loaded, this can be useful if some events are to happen before the player arrives to the scene. The player will then have to be spawned using some other function in another script file.
I've also been drawing on the title screen of Medieval Story. Here's a work in progress image of what I got so far: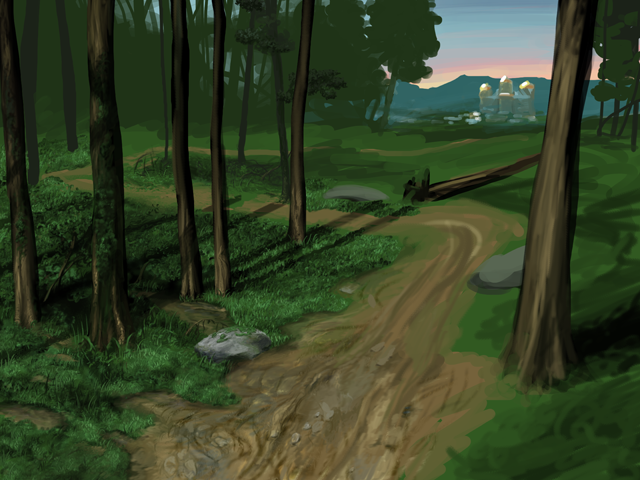 The idea is to have a small mud road in a forest clearing and a castle in the distance. No fancy explosions, magic missiles or monsters I'm afraid. Those things might be in the game though ;-)
Thanks for reading!