Compound Leaf Progress and New Tool Ideas
Entry posted by RSI ·
1071 views
[size="3"]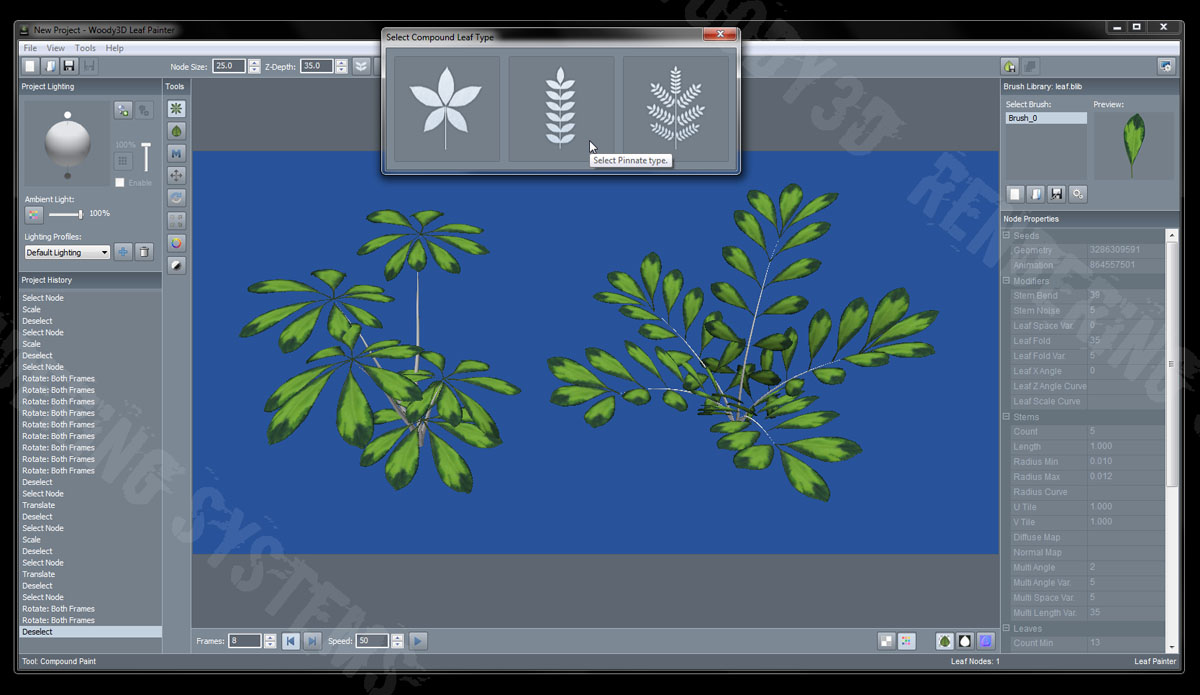 I've made some progress with the procedurally generated compound leaf types in the Leaf Painter editor. There are three basic compound types to paint with: Palmate, Pinnate, and Compound Pinnate. Pinnate types can be made to be odd or even with optionally alternating leaf patterns.
There are a number of parameters that allow for scaling and rotating leaves along the length of the stem as well as modifiers for bending and angling each stem. I've added the curve editor to the Leaf Painter for additional control.
[size="3"]The leaves on each compound leaf are animated automatically. No more time consuming leaf animation setup. Click, adjust parameters, set orientation, and done. You can also set any compound leaf as the paint template - meaning the parameters of the template node will be used when painting additional nodes.
[size="3"]So far I've completed the palmate and pinnate types. An example of each is shown on the image above. Only one leaf texture is used at the moment.
---
[size="3"]There will be (at least) two new tools added to version 1.2. The first new tool is a map packer for combining multiple leaf maps and imposter branch maps into a single texture. It will also generate the map markers which Tree Forge uses to calculate uv frame data. Drag a few textures in, hit a button, it spits out a map.
The second tool will vastly improve the Leaf Painter brush making process. In the field I want to scan several leaves at a time. The brush maker tool will load the scanned image, detect and crop out the individual leaves, and generate and embed alpha masks into the resulting brush images. Currently doing this in Photoshop is exceedingly tedious.
I'll begin working on these tools once the compound leaf types are complete (I need a break from the Leaf Painter). After that I'll return to the Leaf Painter to add the ambient occlusion, multi-sampled rendering, and improved alpha maps which should wrap up 1.2 features for Leaf Painter.