No Demos Recently
Recently we have been working on internal features of the engine, so there hasn't been anything new to look at. Because of this, we haven't released any new demos since there would be little point in showing what is effectively the same version of the game.
We are very close to being feature complete for the first phase (the first version of the game). This means that we will be going into content development soon. We don't want to give out spoilers, so we have decided that we won't release demos for the game's content as it is being developed. Instead, we will be making development log entries discussing how progress is going, and we might even show some concept art, screenshots, or videos from time to time.
To start things off, here is a prototype our artist created for the wall of a house. We are currently planning on a future version of the game to use art assets that are photos of real models.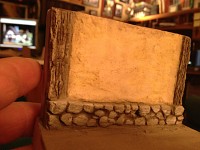 We have an online chatroom where you can usually find myself and other developers, as well as other players:
http://irc.ifthensoftware.net
We also have a Facebook page over at
http://www.facebook.com/ifthensoftware
I have a Twitter account for development updates, which you can view here:
http://twitter.com/ITS_Invisible
We also have an IndieDB page for Areum:

And finally, we have a devlog on TIGSource as well:
http://forums.tigsource.com/index.php?topic=31227.0