Well, we're coming down to it. Not sure I'll be able to make it (though I'll submit whatever I do have by the deadline). I'mma gonna havta pull an all-nighter to make sure I actually submit something playable... or my artist might end up strangling me.
I got the mice and soldier to actually fight each other, but wasted hours trying to figure out why half my sound-effects weren't playing, and why all the animation frames kept on flickering. Anyway, `tis resolved now. Gameplay is progressing.
Speaking of ze artist, she finished these soldiers: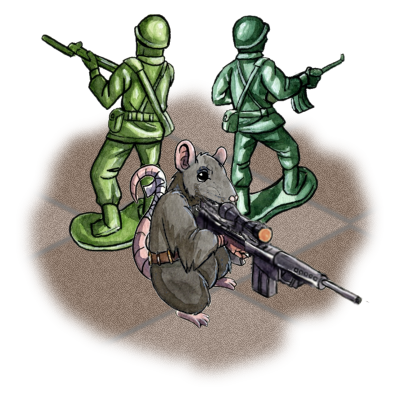 I recolored the sniper mouse to make this rifleman-mouse. There will be different "classes" of soldiers (Shotgunner, Rifleman, Semi-auto, Machinegun) and different "classes" of mice (Shotgunner, Sniper, Rifleman, Pistol).
The soldiers are intentionally
not
animated. They move forward like plastic. This was a design decision I made at the beginning, way back on Day 1, but boy am I glad about that!