I haven't posted in awhile (as usual), most of my updates just occur
on twitter
, where I usually post an average of 6 or so tweets a week (usually two or three tweets on a single day, then silence for a few days, and repeat), so here's a re-posting from twitter of things I've been doing recently.
First, on the coding side, I've implemented a UI for scaling and manipulating decals - which I'll use to add dirt and cracks to walls, tables, and floors, as well as put detail items (tools, paintings, papers, rugs, whatever) on surfaces.
I'm working on that in a small subproject which I'll merge back into
Anyway, on to cool stuff:
Cliffs
(click for full size)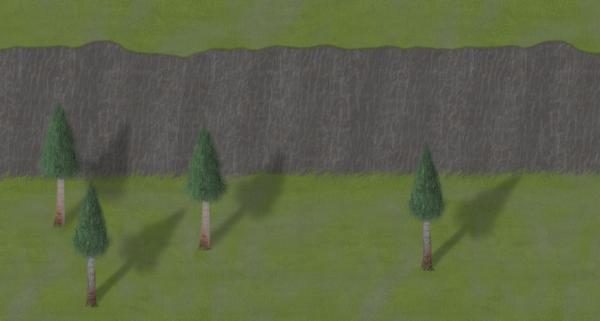 The most significant thing (which you can see if you zoom in), is that I finally figured out how to make grass look better.
By simply having grassy stuff where the grass meets walls (and cliffs and tree trunks), it makes it seem
alot
more grassy.
For scale, the player is only about a quarter the size of one of those trees. These aren't no wussy backyard shrubs!
Couches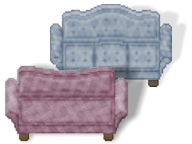 Because I'm still working on the editor, none of the art is in-game, so these couches might be too big relative to the player.
Wussy backyard shrubs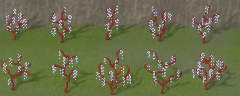 I made these today/yesterday. These stiff brambly plants are wild plants that'd grow naturally around various areas ingame.
The editor can let map makers tweak their stem colors (for example: red-ish, brown, white, grey, green), and they come optionally with berries, flowers, or that drapery flowery thing you currently see on them (wisteria-inspired, I guess!).
Hopefully I'll have enough plant variation that my nature areas will look interesting, and not just an eclectic mix of crazy plants. I need cohesion working with diversity, I guess.
Planterboxes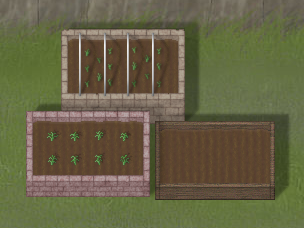 These are combinable - I made each planterbox so their sides can be built up higher or lower (three sizes for the stones: one layer of brick high, two layers, and three layers. For the wood, it's one or two planks high), and so they can have different plants planted in them, with optional bars over them for plants to grow on. They can also be laid out horizontally or vertically.
Wooden cattle fence

I've already made a few stone fences in the past, and iron bar fences and wood picket fences, so I figure a more rustic wooden fence for cattle would add a more warm and "lived in" feeling to the world.
Footlockers / furniture chests


Crates / boxes:



Boxes likely in a port area or fishing village. The one on the far right says "
Parii
", since the game takes place in a fictional former French colony.