Alright, so this is my first journal entry. Let it be known that I am a newbie! Maybe if I keep up with this, one day down the road I'll be able to look back and say, "Wow, I really used to suck at this!" But everyone has to start somewhere, I guess. I started with Mirage Source(
http://www.key2heaven.net/ms/
) and VB6, which led to me thinking I knew how to program, when really it felt a lot more like scripting than anything else. See, now, scripting is easy! But now that I'm neck-deep in actually trying to program a game from scratch, turns out it's not as easy as I thought it was back in the day. But I digress.
Today's entry is to show off my first ever sprite! I am, by no means, a pixel artist, or an 'anything' artist. I used to draw a little bit, and I love to use a pottery wheel, but this is a different experience. This isn't a sprite that will probably be used for anything, but I'm proud of the work that I did, because shading is scary, and I'm awful with the anatomy of a human body. But, without further ado: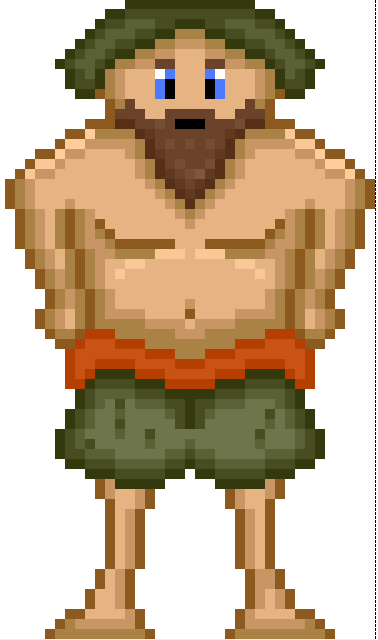 I call him... beach man (.png)! sure, he kinda sucks. but remember! it's my first ever! I hope to improve. And if I don't... well, let's just say my games are gonna have some shitty art until I find someone else to do it.