Spriting Update - Possible sprite frame
So, I'm still awake. Been toying around in GraphicsGale a little bit, trying to make a decent sprite outline that I want to use. This is what I currently have made:

I like the head, for sure, but I haven't decided about the torso yet. I think I may make it a bit thinner, but I haven't yet decided. Other than that, I kinda like what I have so far. This is a sample sprite that I colored, but it kinda sucks;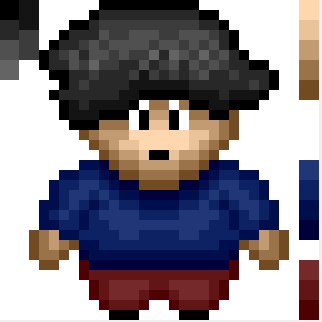 My biggest problem with the sprites are that I don't quite understand how to make the top-down perspective look right. Of course, it's not directly down, but more at a ~45 degree angle from the ground, otherwise you'd just see the top of the head. But shading/creating the sprites in a way that gives the illusion of a ~45 degree angle is something i'm not experienced with. the only thing I can think of to do it more shading at the bottom than the top, but i'm not sure if that's going to work, either. I don't know, I'll give it another shot tomorrow.