Well, It Was a Good Run....
Entry posted by Gaiiden ·
220 views
Sunday, October 31st
And so it ends. Six months of doing shows is now over. [sad]
But it was fun, every day. Sure it was hot as hell during the summer and cold as hell this past month, I've been sore in more places than I thought imaginable, I've been tired, I've been bruised and battered - but once I walk through those museum doors out onto the stage it doesn't matter anymore. All that matters is the show, and making it look good for the audience that showed up to see us do our thing. Yea, my back hurts, but I take the falls anyways. Okay, my leg is a little sore, but that doesn't mean my kicks should be lower. Performing is
tough
, but you know it's worth it when you get comments from audience members and even from your own cast that what you did looked real. "Man you were taking those falls!" Yea, and I got hurt on some of them. "Did you really get kicked in the face?!" Well, I try not to and make it
look
like I did, but it does happen from time to time. Stuff like that. You take your blows and keep on moving. Yea there have been shows where I've come close to limping off stage due to a bad fall or a misplaced kick, but it's worth it when you have a crowd on their feet with applause. We even had a show with bleacher-pounding!
Yes, it was a good run indeed. Would I do it again? Hells yea! I'm already guaranteed a spot next year if I want it when the time comes. So wht'll I do until then? Well, of course I'll still be coaching and doing game development, but I also hope to land some small TV/commercial stunt jobs in the area in the meantime. so hopefully I'll have more stuntwork stories to post!
Here's the final pictography: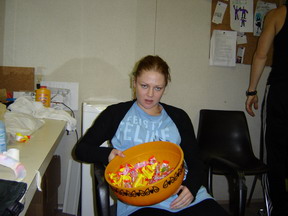 Kat (Catwoman) finds there are no more Sweet Tarts in the candy bucket. D'oh!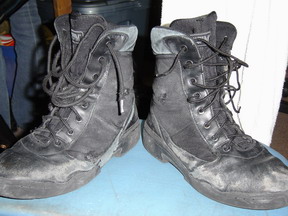 Ahhh... my trusty henchman boots. With me till the end. I've had them since rehearsal, and have had to replace the laces on one. The outsteps have gotten the worse wear - I still don't know where the hell those holes in the ankles came from, but they go almost all the way through the boot!!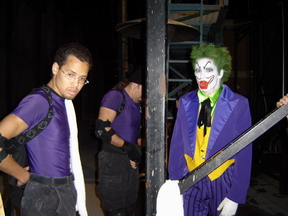 Gearing up backstage for our last show. Me (Ratso, AKA Henchman #1). Eric (Smiley, AKA Henchman #2) and Charley (Joker) form the cabal of baddies. You'll notice I've picked up yet another scrape on my head. This one I have no clue where it came from :P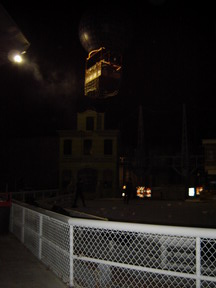 Ahhh night shows... this is the beginning, with us coming out of the museum and the Joker floating above in his balloon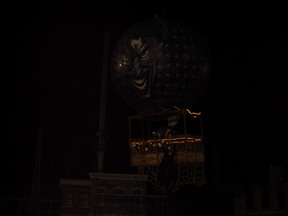 Nope, no safety rope kids. Batman (Jake) has to climb up the cargo net and into the balloon while floating 25 feet off the ground and with Joker taunting him. Sweet stunt!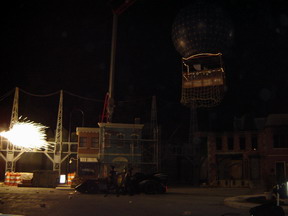 Us henchmen fighting Robin (Drew) by the Batmobile while the Joker's laser in the balloon shoots wild and blows stuff up.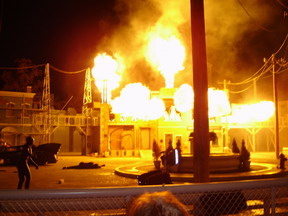 The big finale! Dumb kids always asked us if that was real fire. Of course it is!! [rolleyes]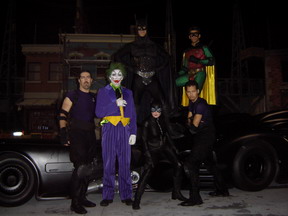 The cast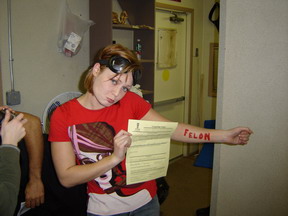 Kat stole the catsuit for a Halloween party last night, and got busted. Since our boss is so cool, he got her off the Grand Theft charges Six Flags wanted to push for and she only got a written warning. Lucky girl.