Entry posted by Rhaal ·
291 views
11:54 AM
- The Beginning
---
I'm now among the l33t of GDNet+ members! I've decided to start keeping a journal on here if for naught but self-motivation.
So, I'll introduce my current projects.
tehtris
This game is going to be an all out effort on my part to start and finish a game. It's teaching me a lot about game engine functions. The game engine isn't anything exportable yet, as it's constantly evolving around one game.
The Chronicles of Lorium
This is my baby, and that's why it will not be rushed. The story is being developed, and that's pretty much it. Theres no implementation other than a little concept art from my artist. I'll give a synopsis when I'm in the mood. I'm at work right now, and it gives me a reason to sign out of WoW and write something in my journal later :)
That said, I'll talk about my life from time to time. Why not? If you find no interest in golf, hockey, tennis, computer science, video games, rpg's, dragonlance, and office political humor you might want to skip these ones.
If you'll excuse me, I need to find a way to kill an hour before lunch.
9:18 PM
- World of Waiting
---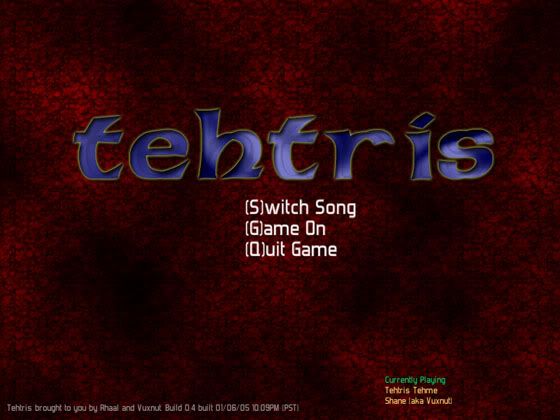 I'm in the damn queue to get on Warcraft. So I decided to capture a screenshot of my project tehtris. I've only been coding it for a few days, but I got the basic game states, rendering, audio, and text functions moderately working.
Alas, the queue has turned in my favor.