Progress in the last few hours
Gamedev,
Disclaimer!!! There was another entry about 4 hours ago, and if you havn't checked this journal in that amount of time, you probably missed it!
Alright, this is going to be quick. I did make some good progress in the last few hours. I finally got the moving platform code to be
completely bug free
! WHOOO! This is so awesome. Wanna know what the worst part is? I just needed one line of code...
 if(player.right >= 500) scroll += 2;
I was playing with pointers, dynamic memory assignation, and all sorts of other crazy shit before I figured that one out. Now I have to go and incorperate verticle scroll into the game. It shouldn't be too hard really, considering nothing moves vertically besides the player, but it's just alot of variable to add and such. One of those things where I'll spend more time editing the mistakes I made in adding all of the variables then I will writing them in the first place.
Oh well. More on the verticle scroll in a few more hours. Untill then, I HAVE A CARD! GO MUSHU!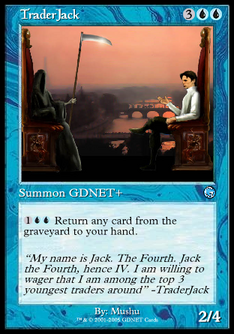 Stompy, Sapo, ilDave, and meh need to get one too!
More later!
-IV