Entry posted by Gaiiden ·
144 views
So I finally spent some time this weekend installing
Konfabulator
and browsing the entire widgets gallery in search of ones useful to me. Here's what I ended up with: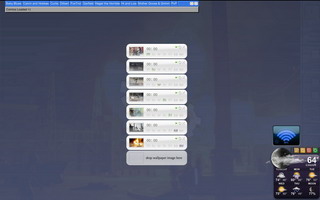 Wallspose
This widget changes my wallpaper for me every day at midnight. That's what I have it set for anyways. It could change my wallpaper twice a day every day too or whatever I want it but one wallpaper a day is all I need. It did mess things up a little bit tho since I have two monitors. I have a pic of my girlfriend on my 1280x1024 Samsung and a pic of my stunt show on my 1280x800 laptop screen. When I started using Wallspose, the pic of my girl on my larger screen would resize to my laptop screen, qsuishing the picture. So I had to switch up which screen held which image.
The Weather
I took out Forecast Fox from Firefox and replaced it with this weather widget on my desktop. Saved me some room in my Firefox status bar. Plus I like how this widget looks over the Forcast Fox graphics.
WiFi Signal
This widget tells me the strength of my wifi signal. However it's more for the fact that sometimes when I restart my computer my Linksys wireless usb adapter sometimes doesn't connect to my comp through my usb hub (I think the adapter's usb plug is a bit faulty) so this will tell me right away if the adapter didn't hook up when I start the comp.
Stay_Updated!
This widget you can't see until there's a new or updated widget in the Konfabulator widget gallery. It pops up in the upper-left hand corner of my screen when a the gallery updates.
Power XP
Lockdown, Hibernate, Shut Off and Restart right there on the desktop. Very convenient, saves me a few keystrokes. Yes I am extremely lazy.
Comix
I can't remember the last time I read comics in the newspaper. It's just not a part of my daily routine anymore. Now I can read em everyday. Yippeee!
That's all i got for now - my
SystemMetrix
bar there on the right takes care of a lot of the other widgets I would otherwise have. I'm not a fan of clutter on the desktop, and this is just about as much as I can stand.
Pick up Konfabulator if you haven't already, plenty of helpful widgets out there, and now that Yahoo bought it, it's free!