I'll be posting a few 'back issues' on our project (starting with this one) over the next couple of days, so people reading on gamedev.net can get up to date. Hope you enjoy it :)
-------------------------
Poo Bear - Programming
-------------------------
Project Status Announcement:
We are starting work on a new game, tentatively titled Mr.Robot. A 3D isometric adventure/platform/puzzle type game, inspired by the old
Ultimate
titles like Knightlore, Alien8 and Pentagram. We don't want to revel too much yet though, better to wait until it's more presentable. We'll keep the second under wraps for now until things are more settled, I don't want to talk about anything until there are screen shots and working prototypes. As Mr.Robot enters the final development phase of level design, level building and testing it is going to suck me in more and more.
------------------------
Fost - Art
------------------------
A late start for me as I've spent some time in Cyprus! Which was very hot, but had fantastic kebabs and beer! (Keo beer rocks!)
Currently I'm working on initial 'doodle sketches' for the robots that will appear in 'Mr. Robot':
Once I've hit on a shape I like, I'll usually work it up into a more detailed concept sketch such as this: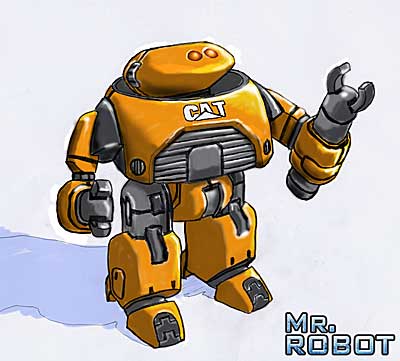 Before Working it up into the final model: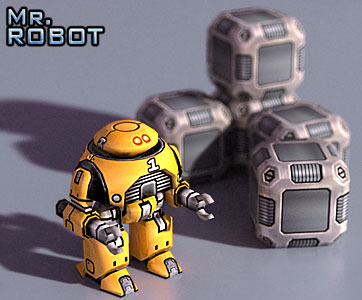 Although often the doodle sketch may be enough for me to get a clear vision in my head of the 3D model that I can work on straight away. It's much more efficient than working in 'the industry' where you would have to produce concept art that would require approval from management before you could do anything. This way the entire debate of what style of model to make happens in my head :D and I can spend more time on the game artwork. The downside is there's less hand-drawn art to stick in my portfolio :wink:
------------------------
Goober - Programming
------------------------
Aside from work on Mr Robot, I've been working on integrating a script language with our shader system, adding support for vertex lighting to the shader system, and writing vertex shaders to do our lighting. Let's go over this stuff a bit.
First of all I made an early decision to only support vertex shaders when doing vertex lighting, even if they are in software. Only a small class of cards "lose out" in this case - GeForce1/2 and Radeon7000 class cards. For cards that have no hardware transform and lighting it's all pretty much the same because they'd have to do it all in software anyway, and a vertex shader could potentially be faster than the fixed function pipeline because it's optimised for a specific case. I don't see this choice being a problem for the lighting models/number of lights/world complexity that we're aiming for, so it makes sense to keep the engine simpler in favour of requiring the CPU to do some extra work.
One issue that has become apparent with the recent lighting/shader work is that currently the script language is still without a high level language compiler, mainly due to there being higher priority things to deal with. This is kind of a pain because it means I'm the only person here that can write shaders that make use of the script language in any way. This affects more than just the lighting though, because Fost intends to use texture coordinate animation for some effects, and the script language will need to be used to set up data for that. Short-term there shouldn't be a problem, but it will definitely be easier when there is a high level language to use, to give Fost the freedom to try things out without the latency of needing to get me to implement something for him.