I've been quite busy lately. I've written the entire master server over the last few days. It will coordinate "Gang War" multiplayer games around the world. Luckily RakNet already had some basic functionality for implementing a Master Server.
Everything is up and running, and I've just about hit the limit of things I can accomplish with LAN testing.
I also went out today at like 8:00PM and bought 3 new computers, a router, basic 17" LCD monitor, a new video card, battery backup, 5 ethernet cables, and some other little things. It all came in just under $1,600. All this hardware will serve as my master server, and two beta servers. I'm going to share an office with my dad right now....he's not really using it, so it'll be all mine for the moment [grin]. We're going to run a T1 connection (2.0MPbs up/down) and that should handle all my Beta Servers and Master Server...and also my Counter-strike:Source server *cough*. I'm going to have 5 static IPs for it as well.
Unfortunatly the office is going to be 2 hours away from my apartment...so I've got to figure out some remote-access stuff...any pointers on that would be appreciated [grin]
The server stuff I bought wasn't really "top of the line" stuff...I really just needed the most basic rig to run a "Gang War" server, it's just a console app. The computer that's going to run the master server is a little beefier...here's how the specs break down on the stuff I got.
Gang War Game Servers (2 of 'em)
---------------------------
~2.0 GHZ AMD processor
256MB DDR RAM
64MB Nvidia on-board
80GB hard-drive
DVD/CD-RW drive
XP Home
Gang War Master Server/Additional test client (just one of these)
----------------------------
~2.1GHZ AMD processor
512 DDR RAM
128MB GeForce FX 5500
180GB hard drive
DVD/CD-RW
XP Home
I spent a few hours taking all the pre-installed crap off these computers, installing my anti virus stuff, updating drivers, testing the game, etc. These computers will also serve as nice multi-purpose machines for me later on down the road, as I hope to build up "Radioactive-Software".
I've been busy lately working on all this stuff...though I'm suprised it's working out so well. I'm knocking bugs out left and right, and everything is falling into place. I'm excited to start the beta for the game soon.
If you're interested in helping beta test "Gang War" send an e-mail to dgreen@radioactive-software.com with "BETA" in the title and I'll add you into the upcoming beta test. Again, thanks to those who've already send me an e-mail :-) I appreciate it!
I've also just fixed a crash bug in the Game server a few minutes ago...so it should be pretty clean of bugs at this point...I've still got a fair amount of things to add into it though. For instance...if a server goes down, and tries to re-connect to the Master Server it doens't work, I've still got to handle that situation.
Good news is the Master Server/Game servers can be brought up and closed down arbitrarily, and they will just sync back up with eachother as soon as they're both online again.
In order to resolve the IP address of the master server...the clients/servers connect to my RadioactiveSoftware webpage and download a .html document with the current ip address of the master server. This makes it a lot easier for me to update, verses if I were to use a domain name to resolve the master server's IP.
Also since I've now got a few new NVidia cards to test on...I've noticed that the game doesn't work correctly on some NVidia chipsets. Atleast I'll be able to debug Nvidia cards now that I have these new computers.
On to the images...
First a little in-game shot (Notice the top right corner...says "Connected" yay. As soon as I get the game into beta I'll be able to focus on making the graphics better [grin] There's still a lot of room for improvement....
Servers before...
Aaaannd servers after...(Yes I'm about to get a KVM switch...they didn't have any in the stores I checked...gotta take care of that tommorow)
A pic of my actual workspace...and my other computers.
Yea...that chair rocks
My christmas toy (Sony PSP & games). I can't believe the UMD version of the first two Family Guy seasons was only 25 bucks, that comes to...a dollar...an...episode...wow, I think that's a good deal [grin]. Too bad I've already got all these episodes memorized.
And for those who missed it...behold my 8 foot tall snowman ;-)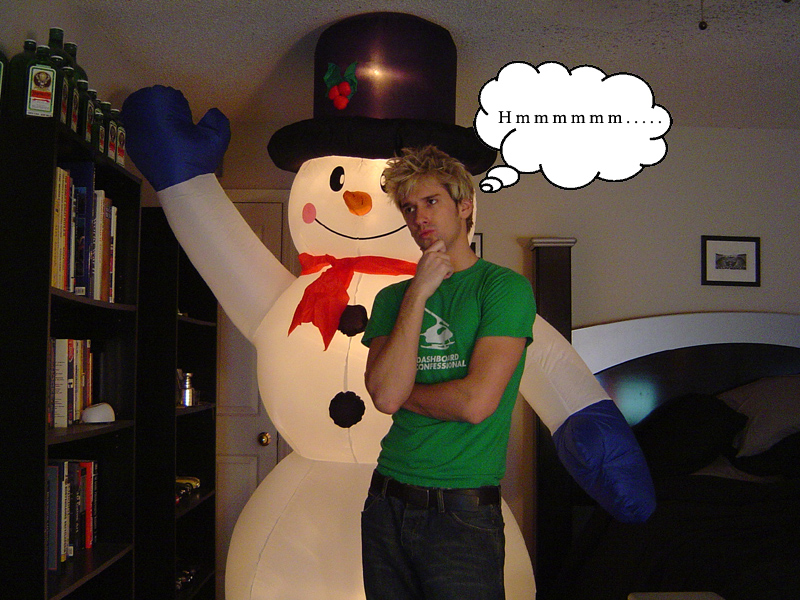 Alright that should do it for now...time to sleep.
- Dan