Entry posted by Mushu ·
82 views
I'm bored, and still not drunk. Booooo.
Found a memory leak in my GUI shit - was in the text rendering code of the prototype SDL graphics adapter. I really need to throw that bugger away and write an OGL one.
Anyway, I think I've pretty much decided to write something to use my GUI crap for. Its probably going to be a 3D graphing program whereby you type something into the text box, ie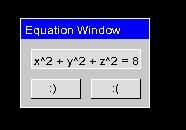 And click the ":)" button, which will generate a sphere in the background.
No idea what use this could ever be, but at least its both an appication for this GUI bugger, and something to use the 3D OGL adapter (which I've yet to write) for.
Look forward to pix of sexy spheres, planes, and other fun surfaces in the coming weeks. Hopefully parsing won't be that much of a bitch.