Entry posted by Mushu ·
99 views
Okay, I think I have a concept. No stealies.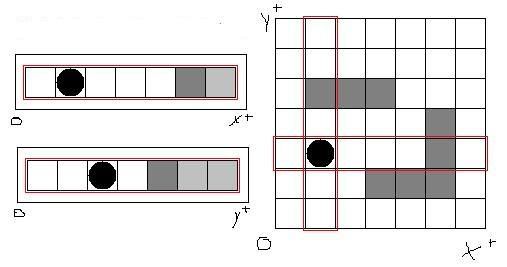 I think it's simple enough not to require any explanation. The right-most view most likely will
not
be visible during gameplay, except possibly as an "already seen" unmini-map.
Remember - its just a concept. No details have been worked out yet.
UPDATE.
Holy shit, I think I just found a way to integrate an old idea for a game with this. Holy shit, holy shit, holy shit. If I manage to pull this one off, its going to be lol. Seriously, LOL. No kidding. I absolutely _HAVE_ to keep this under wraps until I know I can do it, its such a FUCKING AWESOME IDEA.
ANOTHER UPDATE.
I just got permission to use the media to make said game with said media in said game with said media. If I can pull this one off its going to be awesome. Isn't it funny how I say that about most projects? This one should be simple enough to produce, and my codebase is getting pretty big. So it *should* all come together this time. lolz~
omg. They're coming to take me away ha ha ho ho he he to the funny farm where life is wonderful all the time ha ha he he!