I learned that you can freely mix the win32 console functions and the .Net console functions; I can use the .Net Write to output text and the win32 wrapper for 'graphics'. I'm currently just using GetAsyncKeyState for input, but I'll see if I can mix it with the .Net console input for events, too.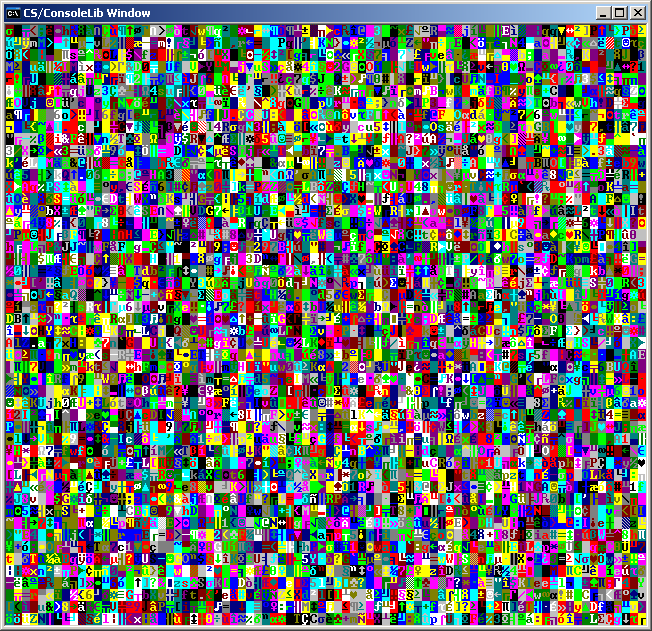 Here it is

; it isn't really all that much code, but I'd say it's pretty useful if you want to use C# but don't want to deal with horrible framerates or win32 console functions. (You still have to deal with input, though. I suggest using Console.KeyAvailable with Console.Read for events and GetAsyncKeyState for stuff like motion.)

Just a warning, in the demo app, you press up to exit cleanly. Sorry; I only added the arrow keys to my Keys enum so far.

Important: I just uploaded a bugfix so it won't crash if you try to read or write outside of the console window! If you got the old one in the first 10 minutes it was up, please get the new version!

[Edited by - nagromo on February 11, 2006 1:29:19 PM]

Yay! I made my first C/C++ dll! (It wasn't quite as hard as I thought it would be.) It's a wrapper for the win32 console functions. Calling it from inside C#, I get 128 fps with randomly changing backgrounds in windowed mode; 512 fps in fullscreen. It looks great in fullscreen because 80x50 matches most widescreen resolutions, too. If you're using a 4:3 monitor the characters will appear as 1.2:1, but that's still better than 3:4 or 2:1.