The Matrix Unplugged
. The game now has a handful of members, and I've implemented a number of cool features since I put the first version up. Here are some of the features which are currently supported:
In-game Events and Messages
Player Profiles (you can browse the profile pages of other players, and are given the options to send messages, send cash and even initiate combat)
The Training System (allowing players to train their core stats: Combat, Coding, Hacking and Tactics)
The Missions System (allowing players to carry out tasks in exchange for Items, Money or Experience Points)
Training Programs (programs which not only allow the player to raise their stats, but also provide them with special abilities, such as Hyperjumping or Bullet Dodging)
NPCs (Exiles, Redpills, Agents etc.) + Preliminary NPC Combat
There are also a couple of other features which are in the game right now, but are either unfinished, untested, pending a rewrite or are still in active development, such as:
In-game Combat (basic hand-to-hand and short-ranged interlock combat is functional, but long-ranged combat and free-fire gun battles are still being implemented).
Hacking Abilities (currently an untested version of the hacking system is in place, but I plan on rewriting it very soon, since it is highly unstable and not particularly scalable).
The use of Zion Hovercraft (currently in place, but there are some additional features I still want to add).
You can register for free and try out the pre-alpha for yourself at
http://www.matrixunplugged.co.uk
. Here are some early gameplay screenshots: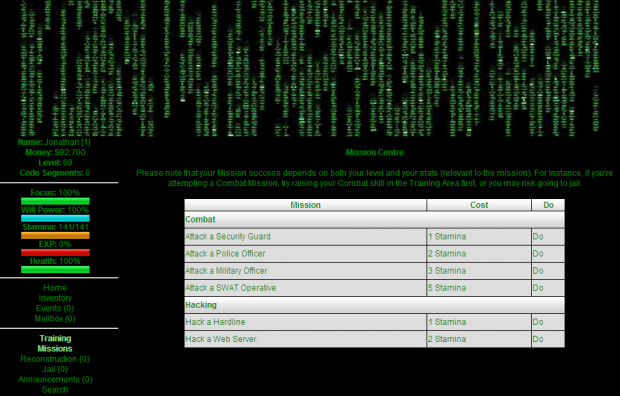 The Prototype of the Mission Centre, with the new selection interface I wrote a couple of days ago. There are some parts of this which I still need to rewrite.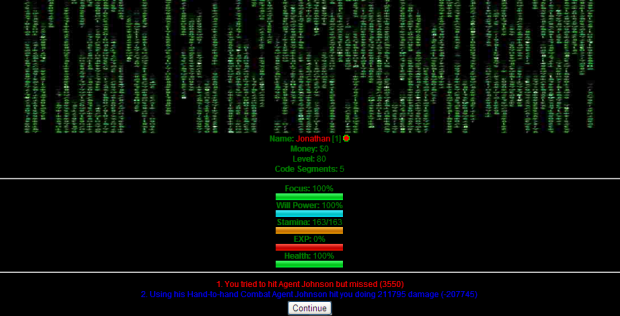 The First Draft of the in-game Combat system, which I released yesterday. The UI is still really bad, and needs to be restructured in order to look a little bit more appealing. I am, however, pretty pleased with the functionality so far. This is me being epically beaten by Agent Johnson (an NPC).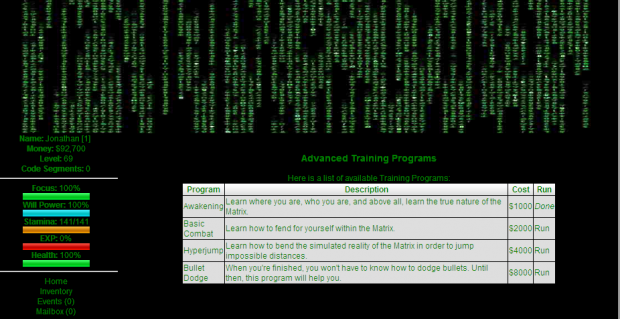 The Training Program system, which allows users to spend a small amount of money to learn new abilities, raise their stats and reach new levels of awareness within The Matrix, as a Redpill.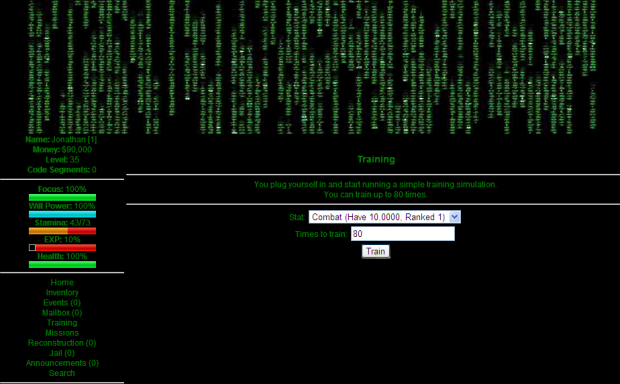 The Basic Training System. This allows users to train their core stats instantly, and for free (unlike Advanced Training Programs), but training requires Focus and Will Power, which are limited and only recharge every 5 minutes. This may also need to be rewritten soon.

I hope to see some of you in-game!

I've been working (on and off) on a text-based MMORPG based around The Matrix franchise for a few months now. Last week, I finally managed to pull myself together and finish off the core functionality to the point where I could put a pre-alpha version live, under the name of