NeoAxis Group informs that its all-purpose 3D game engine NeoAxis Engine was updated to the version 1.3. New version received a number of new features along with changed license terms for a Source Edition of the engine.
Read more:
http://www.neoaxis.c...ne_1_3_released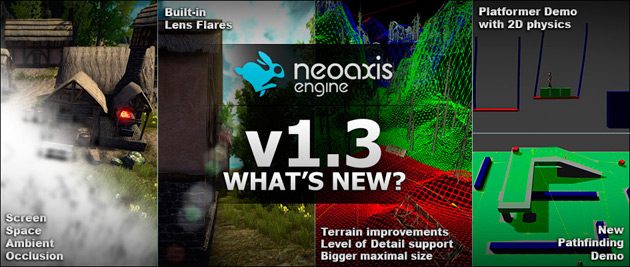 Main New Features
Screen Space Ambient Occlusion effects has been added. SSAO is a real-time rendering technique that is widely used for effective approximation of Ambient Occlusion in CG. SSAO in NeoAxis is implemented as a post-processing effect, has many adjustable parameters for fine-tuning and allows to maintain the best balance between performance and image quality.
Heightmap Based Terrain Improvements. Maximum height map resolution is increased from 1024x1024 to 4096x4096 pixels (16 times bigger resolution). This become possible due to significantly reduced memory consumption. Support for terrain Level of Detail (LOD) has been added, resulting in increased terrain rendering performance. Terrain LODs in NeoAxis is based on "Continuous Distance-Dependent Level of Detail for Rendering Heightmaps" (CDLOD) technique implementation.
Lens Flare Manager — new object to simplify the creation of camera lens flares effects.
Platformer Demo with 2D physics — new map has been added to the NeoAxis SDK. New demo map shows the example of platformer-like game with 2D physics.
Pathfinding Demo — new map has been added, demonstrating the pathfinding based on Navigation Mesh technology.
SceneBox — new type of control has been added to the NeoAxis GUI System. SceneBox is a control with the ability to draw 3D scene within. Models, effects and other supported entities can be added to it via the Resource Editor or be managed through the game code. This class is convenient for the output of a simple scenes. For example, a garage scene with a choice of a car in an auto simulator game, or a 3d character avatar at the corner of the screen. For a demonstration go to Game.exe and press "Gui Test 2" button in the Main Menu.
WinFormsMultiViewAppExample.exe — new example application has been added. This is WinForms based application that demonstrates creation of multi view applications.
Links
Official NeoAxis website
Download NeoAxis Engine SDK 1.3 with demo maps included