Hi,

I would like to announce the beta version of my game called Terra Aegrus, Rise of the Lich King

Here is a link to this zip file: http://www.graycoresoftware.com/scripts/download.php?get=TerraAegrus2_1.0.0.704.zip
(it's around 50MB)

It's a single-player, medieval, tiled, 2D RPG, written in C# for the PC.
It's prety old-school.
I announced the first version a while back, and I've fixed all the known bugs.

Here is a link to my website: GrayCoreSoftware
Here are few screenshots: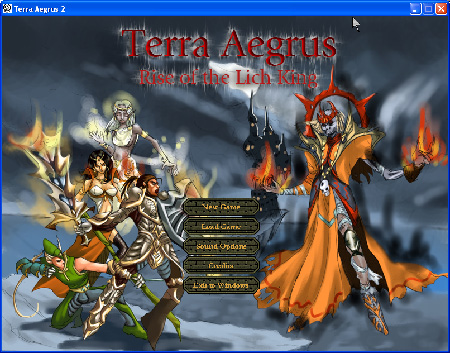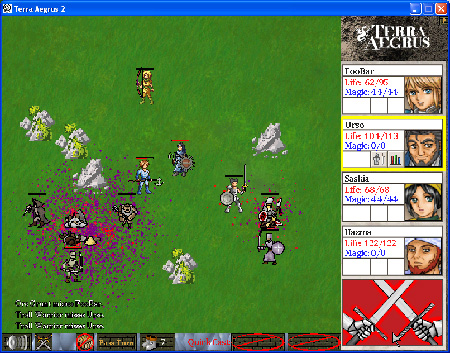 I did all the coding, but I got help with the artwork and music:
Graphics:
Chapter Graphics, Main Title: By AFM Games: www.afmgames.com
Lich Wanted Dead or Alive: By Michael Moon,zerofresh@gmail.com
World Map Tiles: By The Inquisitor, RMXP Outdoor Tileset, at `http://www.rpg-palace.com` or `http://rjanes.co.uk/`
Character Animations: By antifarea: http://antifarea.deviantart.com/ hyperiria@hotmail.com
Monster Animations and Weapons and Armor: By Zhebb: misterherman@yahoo.com
Character Portraits and Town Animations: By First Seed Material: http://www.tekepon.net/fsm

Music:
Created by Milan Cizek `http://www.soundclic...?member=milanus`
Some sound tracks were used from Terra Aegrus 1, and those were created by Melissa. You can check out her website here: `http://fancyanimals.net/music`

Sound Engine:
Powered by irrKlang http://www.ambiera.com/irrklang (A sound library used to play .wav and .ogg files.)

Again, here is the download link: http://www.graycoresoftware.com/scripts/download.php?get=TerraAegrus2_1.0.0.704.zip

I created a forum on my website to enter any bugs or feedback, so feel free to try it out and let me know what you think.
http://www.graycores...forum/index.php
Ideally, I would like to get feedback on the following:
1) What can I do to make this game better?
2) Is it too hard/easy? Is it too boring or repetitive?
3) Is it worth porting to iOS?

Sincerely,
-Zander-
http://www.graycoresoftware.com