I just made a Gladiator and a Pirate for my upcoming game, Pixel Kingdom! This brings the total of units to 15 for launch day. Here's some info on what I've got so far I'd love to hear your ideas! Let me know what you think the Pirate and Gladiator should do. Btw they are unlocked with the following achievements:

[Unlock Pirate] - Find 100 Treasure Chests
[Unlock Gladiator] - Survive 100 Waves in the Arena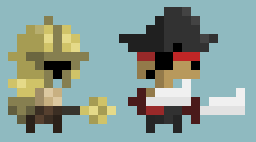 Warrior - Cost: 5
Archer - Cost: 10, ranged attacks.
Rogue - Cost: 10, 30% chance to dodge attacks
Wizard - Cost 20, ranged attacks, AoE
Knight - Cost 20, high HP, decent Knockback
Cleric - Cost 15, Heals unit in front
Monk - Cost 10, High knockback
Berserker - Cost 40, High ATK, 30% chance to summon lightning for AoE damage
Paladin - Cost 40, High HP, heals when attacking, can AoE heal
Necromancer - Cost 60, Summons skeletons to fight for you
Ninja - Cost 20, High ranged ATK, with teleport ninjutsu gear you can tap on him to change lanes
Dragoon - Cost 5, 30% chance to crit
Champion - Cost 80, High ATK, HP, Creates light wave that shoots down the lane
Pirate - ???
Galdiator???

Here's some gameplay:

Give me more unit ideas!