Hey
I'm having this problem with transparency on particles that I can't really get my head around. It appears that bright alpha blended particles show up much more pronounced in game than dark ones. I hacked the pixel shader so that I could toggle the output RGB from darkest (0.0f) to brightest (1.0f), with alpha value identical. I would have expect both to contribute approximately the same, maybe appear a little different dependent on the background but as you can see the dark particles almost disappear: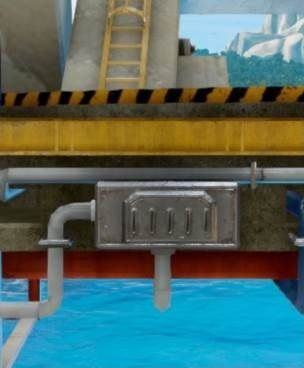 Does anybody know why this might be happening? The platform I'm running on is PC, Directx11. I took a look in some profiling tools the black smoke are written to the colour buffer with the format DXGI_FORMAT_R16G16B16A16_FLOAT. The blend settings are:
RenderTarget[0]
BlendEnable 1
SrcBlend D3D11_BLEND_SRC_ALPHA
DestBlend D3D11_BLEND_INV_SRC_ALPHA
BlendOp D3D11_BLEND_OP_ADD
SrcBlendAlpha D3D11_BLEND_SRC_ALPHA
DestBlendAlpha D3D11_BLEND_INV_SRC_ALPHA
BlendOpAlpha D3D11_BLEND_OP_ADD
RenderTargetWriteMask D3D11_COLOR_WRITE_ENABLE_ALL
I tried with a few different blend settings with no improvement. I tried pre-multiplied alpha as well. Each particle is setup to have a small alpha value if I crank it up the dark particles appear more but that makes the bright particles over-saturated. I need to have dynamically both bright and dark particles from the same emitter as I'm applying lighting to the particles. Has anybody come across this problem before?
Thanks,
Simon