http://www.cprogramming.com/tutorial/computersciencetheory/graphtheory.html
The link aboves states the following statement.
Directed Graph: A directed graph is one in which edges connect nodes in only one direction.
But I see this influence graph in my discrete math textbook and I would disagree with the above statement.
in the right of the influence graph, you can see that both arrows are in opposite direction thus these edges connect nodes in both directions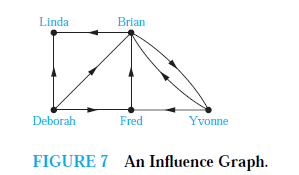 Edited by warnexus, 25 October 2013 - 10:08 PM.