Hello!
I am working on a party game for up to 8 players. This is the first trailer of the game:
http://www.youtube.com/watch?v=D7-6gL-_klQ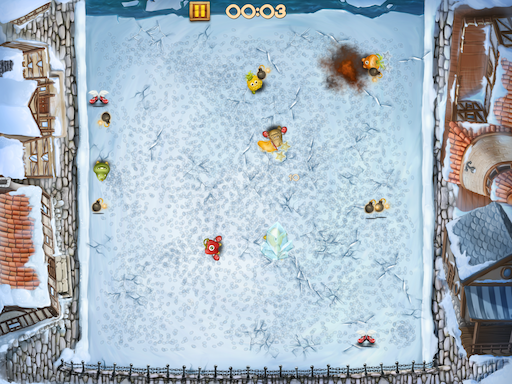 The team
We are 3 guys (programmer, artist, game designer) from Latvia with almost 10 years of experience in game development. Together we created a few small flash games and 2 years ago decided to move to mobile game development.
The game
2 years ago I had a birthday party and I wanted to entertain my friends with a computer game. The problem was that Xbox can be played by only 4 players and there are no iPad games for more than 4 players. So I decided to create an action game for more than 4 players - Runion. In Runion players play against each other by blowing up opponents, stealing a flag from them or collecting coins faster than others. For training purposes this game also has a single-player campaign.
The game will be released on AppStore at the start of 2014. I hope you like the trailer video. If you do, follow us on twitter: https://twitter.com/runiongame