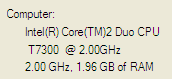 From what I see here, I got 1.96 GB of RAM.
How do I know how much RAM my labtop can actually have even though it starts off with 1.96 GB of RAM?
What does the first @ 2.00 GHz and second 2.00 GHz mean?
I noticed with the amount of RAM I have, the computer lags with 3 windows open. Why is this?
Edited by warnexus, 24 November 2013 - 05:41 PM.