The first shipment arrives!!
Whoohooo! The UPS truck dropped off some early early early xmas gifts for me [grin]. It's unfortunate, but not all my computer parts were able to ship from the warehouse in Edison, NJ. My case is coming in from CA and my power supply from TN. So the PSU will arrive tomorrow and the case on Thursday :P Oh wells. P1ctar!!!11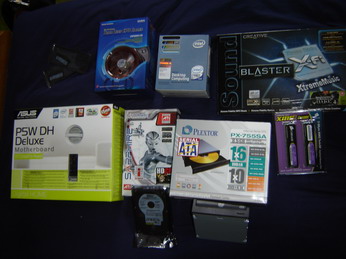 My monitor also arrived today. It didn't come with a DVI cable unfortunately, just RGB. So I'll have to add that to the shopping list. I plugged it in place of my current one just to test it tho and it looks awesome - no dead pixels or anything *phew!*. I was going to hook it up to my old little lappie and install MaxiVista for an early glimpse of three-monitor goodness but I can't seem to find the dongle that I need to connect the RGB plug to the lappie [sad]. So I guess I'll have to wait till Thurs. It's all set up ready to go tho!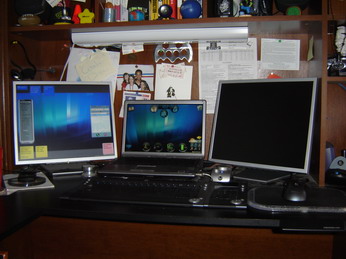 I had to move my A/V switchbox tho - luckily it fits perfectly next to my mouse charger/stand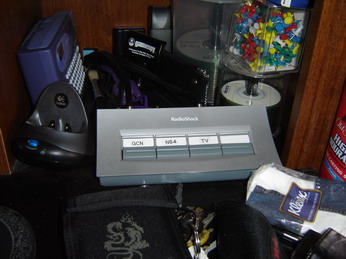 Schweeeeeet. Well I guess that's it for now. Gonna try and dig up that dongle again later this evening, and also install the 1GB of RAM I got for this laptop as well.
Weeeeeeeeeeeeeeeeeeeeeeeeeeeeeeeeeeeeee