Another Monday, Another Refrain from a Tired Monday Joke
I feel overly narrative-istic (narrastic?)right now. I think the fact that I spend a good three hours a day at work listening to NPR's "This American Life" at work has warped my perspective on writing for an audience. It's just a shame I'm not an inner city single mother befallen by tragedy with a handy tape recorder, or an NPR correspondent who happens to have some marginally interesting relative with a handy tape recorder forcibly duct-taped to their chest. Just know I can't get stop hearing Ira Glass's voice whenever I try to explain something.
I'm also working on getting GDNET+ back again, but something messed up with paypal, so my sick avatar that I haven't made yet will have to wait.
Anway...
I'm going to take this entry to kind of lay out my artistic interest and how that relates to the cool spaceship thing.
[hr]
I think of myself as a technical artist. People as a subject have never really interested me, which I think sort of sets me apart from most artists I've known. Definitely part of it is the fact that I have a pretty strong Asperger-sy fondness for machines. Or maybe that's all of it. Anyway, I really like mechanical things, particularly weapons for some reason. It started with semi trucks and airplanes (living near a US Air Force base can take the blame for that), but soon extended to tanks, ships, and spacecraft after being exposed to movies. The Super Star Destroyer was probably my favorite Star Wars character. For whatever reason, I think drawing machines, and that's what I've gotten good at over the years.
How does that relate to the last entry?
[hr]
Fact: Battleships Are Cool
Battleships strike me as some of the coolest machines ever designed. They're some of the best examples of war machines that look like they really mean it, and they're epically proportioned to boot. Unlike modern warships, they bristle with very obvious firepower. Hell, battleship turrets alone are some of the sweetest technical designs themselves IMHO:
Their basic concept also carries over to sci-fi as well as anything, since the a pretty common assumption in fiction is that if you're going really far, you're going to need a big thing to do it. Plus it's a handy setting that lets you fly across the universe but film in the same two rooms every week.
[hr]
Tangent on Battlecruisers
[color=#ff0000][Easily Skippable][/color]
It's kind of interesting how the coolness of the word "battlecruiser" has somewhat overwhelmed "battleship" for a lot of things, Starcraft in particular, when the actual operational history of the battlecruiser is actually pretty terrible. Battlecruisers on paper sound like a really cool idea. The basic concept is that there are three main attributes of any fighting machine: firepower, armor, and mobility. Battleship designs historically balanced the first two, then did what they could within technology and time constraints for the third. They sacrificed speed for armor in a bad way. Theoretically their speed would keep them out of trouble if they ever faced an actual battleship, which Admiral "Jackie" Fisher, essentially the inventor of the concept, subtly explained by saying "Speed is Armor." Turns out, nope. It's really not.
The basic problem is that the speed advantage gained, say from 21 knots to 25 in the case of the original Dreadnought and battlecruiser equivalent Invincible, wasn't worth sacrificing basically half the armor protection. In a two-dimensional fight the small gain in speed didn't give the battlecruisers enough mobility at all to compensate for having functionally paper-thing armor. In the Battle of Jutland, the biggest actual Battleship-vs-Battleship engagement of the war, the British battlecruisers had the alarming tendency to explode almost immediately after being hit in the turret. This happened because the armor was thin enough to guarantee a large-caliber shell would penetrate, and because at the time a ton of extra ammo was being stored in the turret and the path to the main magazines left unobstructed. A hit on a turret was therefore almost guaranteed to set off the magazine. Turns out mecha and anime villains aren't the only things that die in enormous explosions.
[hr]
Large Spacecraft Design: The East-West Dichotomy
Western Tradition
I've always thought there were interesting differences between some Japanese and western spaceship designs in my by no means comprehensive experience. Western ships (and by ships I mean big spacecraft- stuff bigger than the Millennium Falcon) of the past few decades seem to revolve around the precedents of Star Wars and Star Trek. Ships are almost of interminate size and plastered with details but always pretty linear, with little organic influence. They seem to rely on not betraying any real sense of scale to seem awe-inspiring- they tend to have the bridge or cockpit not terribly obvious if at all from the outside. Traditionally they always look very utilitarian, packed with unfathomable levels of detail but for some reason they never seem to display any obvious weaponry, which always disappointed me. A Star Destroyer or the Enterprise A-E don't show any teeth, which I think is a shame. Notice how a large proportion of the Super Star Destroyer is essentially crammed with empty detail that I like to call "squiggly bullshit.":
Cool, right? Too bad you need this helpful diagram, which I'm pretty sure had to be retconned as hell, to find anything except the bridge: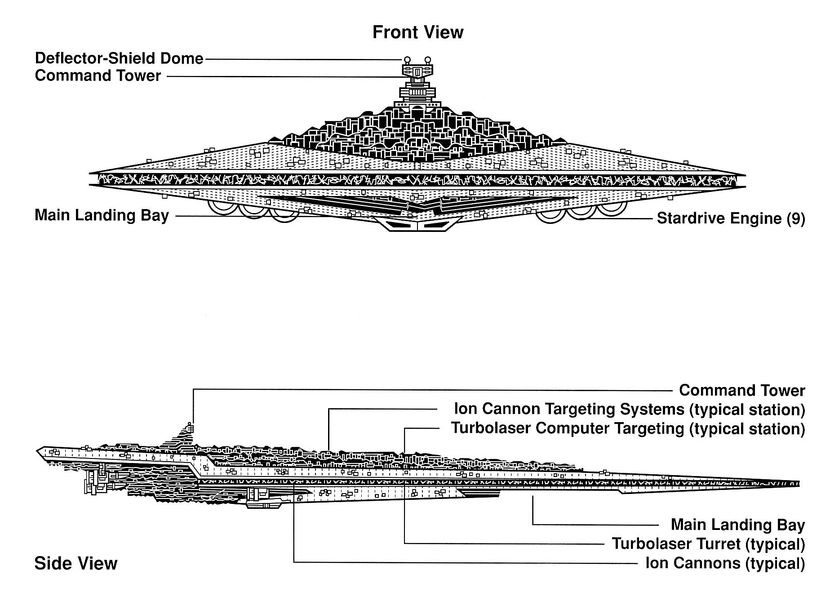 The only time anything vaguely organic or at least not made of right angles showed up, it's alien, but even then they tend to stay consistent to the rule that ships over a certain size have tons of random detail, but very little of it meaningful. Alien ships tend to have looser rules, but they mostly look insectoid or like
very angry plants
.The most painfully stereotypical example of this is in the Halo series, where brave
human hexagons
fight
purple dolphins
.
Eastern Tradition
I've always preferred the more Gundam-esque ships, which seem to hew closer to real ships, which I prefer. You can actually see the guns! That's awesome! They also tend to be more colorful, which I think creates more visual interest than the overplayed GIANT GRAY THING, though less realistic.
Take these selected examples:
The Magellan Space Battleship from the original Gundam series, which looks like a battleship, but in space. Pretty straightforward and relatively cool. Take that a couple steps into the future:
Musai-Kai from one of the spinoff series (0080), which does an excellent job of being sleek and futuristic, while obviously being artificial and not a sinister grasshopper derivative. Also:Guns! You can see them!
The first 20 seconds of the following clip illustrates the scale thing pretty well (I wish I could show you a better one but they managed to block only that episode out of the 12):
[media]
[/media]
You see the mobile suit (giant robot for the uninitiated) on the right of the bridge, then you see it launch from the bridge- it gives you a better sense of scale so that even though something like a Star Destroyer is much bigger, the impact of actually having some idea of how big the ship is makes for better design. Gundam series are particularly good about being able to see parts of the ship from the bridge, and having exterior shots of the bridge to illustrate the sizes involved. You don't just shrug it off with a subconscious "it's really big," you get at least a vague notion of what that really big actually is.
[hr]
In the end, it's almost sad how incredibly intriguing this website is (mind blow alert):
http://www.merzo.net/
particular for the ships of different series, which just goes to show you how incredibly vague they leave the dimensions within the main fictions. Also see if what I'm saying makes any sense while you're there since they have ships from both sides of the pacific.
I'm pretty much out of time to write, so I'll try to go into my personal ideas and biases that went into the actual design of my ship next entry. I've actually made a fair amount of progress since last time...
Note: Hopefully all the images work, I'm not quite used to the new jourrnal system. When I was growing up, we had to hardcode HTML both ways uphhill in the snow.